m

Tags:

apiedit

,

Visual edit

Line 1:
Line 1:
 
+

{{Improve2|In-game screenshot without the text.}}

−

{{stub}}

 
 
+

[[File:Baku_Hadoken.jpg|thumb|Baku Hadoken.]]

−

{{image}}

 
−

{{Nihongo|'''Baku Hadoken'''|爆波動拳|Baku Hadōken|"Bursting Surge Fist"}} is one of [[Ryu]]'s special attacks in [[Ultimate Marvel vs Capcom 3|Ultimate Marvel vs. Capcom 3]].[[File:Baku_Hadoken.jpg|thumb|Baku Hadoken.]]

+

{{Nihongo|'''Baku Hadoken'''|爆波動拳|Baku Hadōken|"Bursting Surge Fist"}} is one of [[Ryu]]'s special attacks in [[Ultimate Marvel vs. Capcom 3]].

 
 
 

==Description==

 

==Description==

Line 11:
Line 11:
 

{{Ryu1}}

 

{{Ryu1}}

 

[[ja:爆波動拳]]

 

[[ja:爆波動拳]]

⚫
 
 

[[Category:Attacks]]

 

[[Category:Attacks]]

 

[[Category:Special Attacks]]

 

[[Category:Special Attacks]]

 

[[Category:Ryu's Special Attacks]]

 

[[Category:Ryu's Special Attacks]]

 
⚫
 

[[Category:Hadoken-based Attacks]]

 

[[Category:Hadoken-based Attacks]]
---
Revision as of 18:15, 21 February 2019
This article may or may not be a stub, but it's definitely missing something.
Specifically: In-game screenshot without the text.
You can help the Street Fighter Wiki by giving us what we need.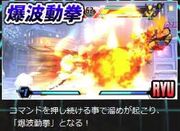 Baku Hadoken (爆波動拳, Baku Hadōken?, "Bursting Surge Fist") is one of Ryu's special attacks in Ultimate Marvel vs. Capcom 3.
Description
Ryu releases a Hadoken that vanishes from sight, reappearing a split second in front of the opponent, and promptly detonates with explosive force.[1] The Baku Hadoken can also be performed in mid-air, and while the Baku Hadoken is charging, Ryu floats very slowly to the ground, which sometimes makes it OTG-capable.
References
Community content is available under
CC-BY-SA
unless otherwise noted.