This article could seriously use some more conditioning. General Fixings
You can help the Street Fighter Wiki by rewriting/adding to it.
Battle Item are special kind of boosts a player receives upon completing Survival Mode in Street Fighter V: Arcade Edition. These items can also be received in Fighting Chance.
Description
[
]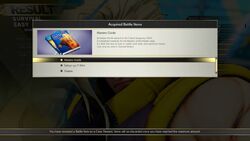 Before a player advances to the next round in Survival Mode, they are able to give their character a boost in addition with the Battle Supplements. These boosts vary from regaining health, to increasing their character's attack or defense. There are a few battle items that possess special effects, such as draining the opponent's EX Gauge or poisoning them. A player can use up to five Battle Items in between rounds. However, Battle Items are consumable, meaning that it cannot be reused.
Beating Survival Mode is one of the ways to obtain Battle Items. The difficulty of Survival Mode determines how many items a player receives.
Easy: 3 items
Normal: 5 items
Hard: 10 items
Extreme: 20 items
Battle Items
[
]
| Health Recovery | Effect | Description |
| --- | --- | --- |
| Gum | Restores health by 20% at the start of the next stage. | Chewing gum with a cool, refreshing taste. |
| Grapes | Restores health by 40% at the start of the next stage. | Delicious, freshly picked grapes. |
| Hamburger | Restores health by 80% at the start of the next stage. | A juicy hamburger hot off the grill and dripping with flavor. |
| Caveman's Grub | Restores health by 100% at the start of the next stage. | A massive slab of Grade A meat sure to satisfy the savage appetite of any warrior. |
| Kanzuki-ryu Scroll | Restores health based on damage dealt. | A scroll filled end-to-end with Kanzuki-ryu secrets. |
| Saikyo-ryu T-Shirt | Slightly health with each successful guard. | A stylish T-shirt received when applying to the Saikyo-ryu Dojo. |
| Elena Bracelets | Gradually restores health during battle. | Colorful bracelets once worn by a wild woman from a faraway tribe. |
| Critical Gauge Up | Effect | Description |
| Hado Tonic | Starts the next stage with 1 stock of the Critical Gauge filled. | A special tonic infused with the power of Hado. |
| Potent Hado Tonic | Starts the next stage with 2 stock of the Critical Gauge filled. | A special tonic infused with an extra strong dose of Hado power. |
| Ultimate Hado Tonic | Starts the next stage with a full Critical Gauge. | A special tonic infused with maximum amount of Hado power allowed by medical professionals. |
| Masters Guide | Increases the fill amount of the Critical Gauge by 100%. | A companion textbook for the Masters Online Karate class. It's filled with tips on how to master both basic and advanced moves. |
| Masters Guide w/ DVD | Increases the fill amount of the Critical Gauge by 150%. | A companion textbook for the Masters Online Karate class. It comes with a DVD that shows how to pull off some of the techniques. |
| Long Scarf | Gradually fills the Critical Gauge during battle. | A long scarf that contains a mysterious power. |
| Eco-Friendly Gadget | Reduces the consumption rate of the Critical Gauge by 50%. | Equipped with cutting-edge clean technology, this device is designed to conserve energy required for special moves. |
| V-Gauge Up | Effect | Description |
| Satsui Tonic | Starts the next stage with 1 stock of the V-Gauge filled. | A special tonic infused with sinister energy. |
| Ultimate Satsui Tonic | Starts the next stage with a full V-Gauge.. | A special tonic infused with maximum amount of sinister energy allowed by medical professionals. |
| Warrior's Spirit | Increases the fill amount of the V-Gauge by 100%. | The physical manifestation of a warrior's fighting spirit. |
| Warrior Clan Spirit | Increases the fill amount of the V-Gauge by 200%. | A collection of warriors' souls brimming with a fierce desire to fight. |
| Mini Psycho Drive | Gradually fills the V-Gauge during battle. | A portable Psycho Drive that greatly enhances the user's power. |
| Urien's Loincloth | Fills the V-Gauge with each successful hit. | A loincloth with spite and hatred sewn into every fiber. |
| Gill's Loincloth | Greatly fills the V-Gauge with each successful hit. | A loincloth that radiates with a divine aura.. |
| Attack Power Up | Effect | Description |
| Knife | Raises power by 45%. Stun damage is also increased. | A razor-sharp knife. |
| Steel Pipe | Raises power by 70%. Stun damage is also increased. | A pipe made of steel that looks like it might leave a bruise if used as a weapon. |
| Katana | Raises power by 100%. Stun damage is also increased. | A sleek samurai sword that can cut through anything like butter. |
| Defense Up | Effect | Description |
| Gauntlets | Raises defense by 50%. Stun defense is also increased. | Sturdy defensive gear crafted to protect one's hands and forearms. |
| Visor | Raises defense by 100%. Stun defense is also increased. | Defensive headgear designed to protect one's face and neck. |
| Shoulder Pads | Raises defense by 200%. Stun defense is also increased. | Protective gear for one's upper body. It has the character for "death" written on it, though it's misspelled. |
| Special Effect | Effect | Description |
| Hakan Brand Oil | Automatically perform throws. | Cooking oil produced by a world famous Turkish manufacturer. |
| Shadaloo Helmet | Automatically guard when possible. | A strange helmet that takes control of its wearer's body and protects him/her from all attacks. |
| Dog Tag | Survive normally fatal damage once during a battle. | A dog tag that belonged to Nash. |
| Spiked Bracelets | Nullifies chip damage during successful guard. | Stylish bracelets adorned with spikes. |
| Sledgehammer | The first hit of an attack is treated as a Counter Hit. | A large, two-handed hammer perfect for demolishing buildings and smashing skulls. |
| Feng Shui Engine beta (Replica) | Reduces enemy's Critical Gauge with each attack they receive. | A replica of Juri's Feng Shui Engine. |
| Nguuhao Poison | Enhances attacks with the power of poison. | A poison used by Nguuhao when teaching kidnapped children how to master the poison hands technique. |
| Aurora Butterfly | Enhances attacks with the power of ice. | A beautiful butterfly whose translucent wings sparkle like icicles in the sun. |
See Also
[
]