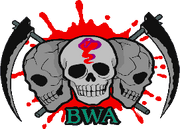 The Blood Wrestling Association (BWA) is a dark underground wrestling organization who had emerged and sought to take advantage of the CWA's period of disarray after its owner and top-ranking wrestler, Victor Ortega had unexpectedly left and disappeared from the public eye. The BWA had first appeared in the Slam Masters series, which is also part of the Street Fighter universe alongside the Final Fight series.
Slam Masters seriesEdit
After Ortega's sudden and shocking disappearance, the BWA had decided to take part in the CWA's World Tour called the "Crash Carnival" in order to decide the new leader of the CWA from within a wrestling tournament.
After the tournament, Ortega shows up unexpectedly and challenges the winner in order to decide once and for all on who is truly and undoubtedly the undisputed leader of the CWA. It is currently unknown on who had actually won the tournament from within the official storyline of the Slam Masters series.
Known Members of the BWA
Edit
Wrestlers
Edit
Community content is available under
CC-BY-SA
unless otherwise noted.