This article or section is a stub.
You can help the Street Fighter Wiki by expanding it.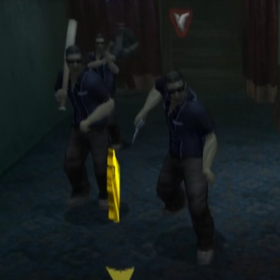 The Blue Ballers is a relatively new and growing gang from Final Fight: Streetwise local to Kyle's Hood appearing as enemies in the porn theater and their warehouse. They operate under the loose control of Nicky Wissell, and much like their leader, they can be extremely annoying. They work in the porn industry and got involved with the Glow drug during the events of the game.
Normal Blue Ballers
Edit
Men dressed with blue shirts with the logo of the Blue Ballers in the back. They use normal attacks and may come with knives or bats.
Names:
7-10 Jack
Basket Case
Edgy Freddie
Funny Pages
G-ball
Gutless
Headpin Pete
Hookshot
Jitterbug

Mama's Boy
Pee Wee
Perfect 3
Scumball
Spanky D
Splittz
Squirrel
The Infant
Villy Vones
Pork Chops
Edit
These enemies are similar to the normal Blue Ballers, but they wear red trousers, have ginger hair, are chubby and attack by charging on Kyle with a loud barking-like shout.
Names:
Ball Joint
Cannonball2
D. Vower
Moundball
Phatz O
Pork 'n Beans

Roller
Slim Jim
The Large One
Tiny
Wall-to-wall
World O. Hurt
Glow Heads
Edit
The second time Kyle goes after the Weasel, some of the Blue Ballers will be under the effect of the Glow. These glow Blue Ballers are tougher than their normal version, causing more damage and hardly flinching when hit. However, they walk slowly, being easy to avoid. Sometimes they will take a Grenade and blow up, attempting to take Kyle with them, but also harming allies. They will also attempt to grab Kyle, slowly lowering his health until he breaks free. If one of them succeed to catch Kyle when his health is critical, they may finish him by ripping his heart out.
These enemies have the same names of the normal Blue Ballers, and they also appear with Glow Heads during their riot in the city.
Community content is available under
CC-BY-SA
unless otherwise noted.