The Buster Claw is one of Vega's unique attacks, introduced in Street Fighter V.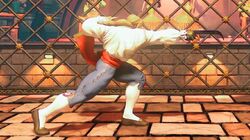 Executed by pressing forward and Heavy Punch with the claw, Vega lunges forward and extends his claw-hand toward the opponent. This move can only be performed when Vega is in his claw stance. If the claw is removed or if he is in the bare-handed stance, Vega will only perform a regular Heavy Punch
Despite the slow startup, this move is Vega's farthest reaching attack. Vega uses this move to keep the opponents at bay, as well as fish for a Crush Counter hit. When Vega gets a Crush Counter off of this move, he can link to a sweep to continue pressure on the opponent. If V-Trigger is available, Vega can link into it, followed by his Critical Art for a large amount of damage. However, this move can leave Vega vulnerable if blocked.
Community content is available under
CC-BY-SA
unless otherwise noted.