This article or section is a stub.
You can help the Street Fighter Wiki by expanding it.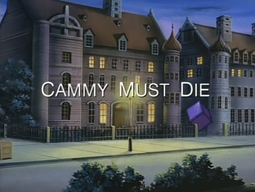 "Cammy Must Die!" is the seventh episode in the second season of the Street Fighter TV series.
Synopsis
[
]
M. Bison tasks Cammy and his cybernetic creation La Lupa to steal a priceless Kali statue for him. The statue has meditative powers that Bison hopes will help him heal his wounds from his previous battle with Guile. The Street Fighters team up with Delta Red to help get to the bottom of Cammy's switched allegiances and during the battle, Cammy gets hit on the head and apparently freed from Bison's mental control. Cammy then takes the Street Fighters and Delta Red to Bison's hideout, where she betrays them once more. Bison and Cammy are then able to escape.
See also
[
]