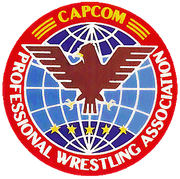 The Capcom Wrestling Association (CWA), also known as the Capcom Professional Wrestling Association (CPWA), is a coalition wrestling federation formed in the 1980s. The CWA had first appeared in the Slam Masters series, which is also a part of the Street Fighter universe alongside the Final Fight series.
Story
[
]
Slam Masters series

[

]
During the boom of professional wrestling popularity in the 1980s, several wrestling organizations were created all over the world, many of them being fierce rivals. To solve their conflict, eight organizations combined to form the CWA, led by Victor Ortega, who had served as both the owner and first wrestling champion of the CWA.
One day, Ortega had suddenly vanished and disappeared from the public eye. He was considered to be the main axis of the sport and his unexpected disappearance had caused the CWA to enter into a dark age of direct confusion and absolute disorder. The BWA (Blood Wrestling Association): a dark underground wrestling organization, had chose and sought to take advantage of this opportunity and began moving in an attempt to establish itself as the superior and dominant wrestling organization. With "Muscle Bomber = Destiny of the Strongest" as its main theme, the CWA decided to hold a World Tour called the "Crash Carnival" in order to decide on who would become the new leader of the CWA from within a wrestling tournament.
After the tournament, Ortega shows up unexpectedly and challenges the winner in order to decide once and for all on who is truly and undoubtedly the undisputed leader of the CWA. It is currently unknown on who had actually won the tournament from within the official storyline of the Slam Masters series.
In A Shadow Falls, Alex fights in a CWA tournament and wins. After the tournament, an exhibition match has Alex and Laura fighting against Zangief and R. Mika.
In R. Mika's ending from Street Fighter V: Arcade Edition, a CWA poster shows a tag team championship between Mika, Zangief, Nadeshiko, and Mike Haggar.
The CWA appears in Hugo's ending, where he and his new partner (being either Ryu, Elena, Necro, or Gill) participates in a CWA tag team tournament.
Known Members of the CWA
[
]
Wrestlers
[
]
Non-Wrestlers
[
]
Harry Hicks (

ハリー・ヒックス

?

) - A trusted American referee known for his integrity, accuracy, and reliability.
Jessica (

ジェシカ

?

) - Mike Haggar's daughter who also serves as his valet. For more info, on Jessica, click here.