The Chin Buster 2nd is one of Ken's unique attacks, introduced in Street Fighter V.
Description
Edit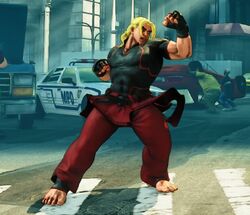 Executed by pressing back and Medium Punch, followed a Heavy Punch, Ken delivers a punch into the chest region, followed by an uppercut to the chin, launching the opponent into the air, putting them in a juggle state for Ken to follow up with a combo extender.
This is one of Ken's primary combos. It launches the opponent and can cancel into specials, such as Hadoken, Tatsumaki Senpukyaku and Shoryuken. When following it up with a Hadoken, Ken can extend the combo with V-Trigger. By linking into the Tatsumaki Senpukyaku, Ken push his opponent into the corner, making it optimal for pressuring the opponent.
Community content is available under
CC-BY-SA
unless otherwise noted.