The Crazy Buffalo (クレイジーバッファロー, Kureijii Baffaroo?), is one of Balrog's Super Combos, introduced in Super Street Fighter II Turbo. It's also known as the Ultimate Wild Smash (究極のワイルドスマッシュ, Kyūkyoku no wairudosumasshu?) in SNK vs. Capcom: SVC Chaos and is Balrog's Exceed.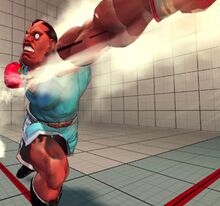 Balrog punches his fists together and then dashes forward, delivering five savage punches. What type of punches they are depends on whether the player is pressing down the kick button or not. If the player is not pressing kick when Balrog throws a punch, it will be a straight punch; if the player is pressing kick, the punch is an uppercut.
The visual execution is changed as of the Street Fighter IV series: beyond having an accompanying "rush of wind" background sound effect, Balrog now alternates between left and right for each punch. His first Ultra Combo, Violent Buffalo, is a more powerful version of this move.
The variability helps Balrog get the most out of the combo even when it doesn't connect properly. If, for example, Balrog catches a jumping opponent with it, he can attempt to juggle the opponent, and hit them again, by using an uppercut. However, the fifth punch is always a turning straight punch no matter what button is held down, meaning that the combo does the most damage when it connects with an earthbound opponent.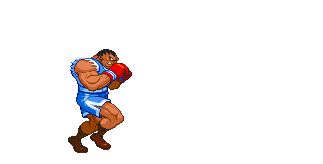 Community content is available under
CC-BY-SA
unless otherwise noted.