This article or section is a stub.
You can help the Street Fighter Wiki by expanding it.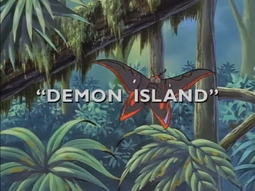 "Demon Island" is the fifth episode in the first season of the Street Fighter TV series.
Synopsis
[
]
M. Bison steals a top secret military plane that can turn invisible at the push of a button, so it's up to Guile, Dee Jay, Cammy and Blanka to get it back. They arrive on a mysterious island where Bison currently has set up shop and unfortunately, Zangief is patrolling the area in a hovercraft. Dee Jay blames Zangief for ruining his fighting career, and they begin to fight while Guile fends off Bison. The Street Fighters eventually steal the plane back just as the island explodes.
See also
[
]