A popular and memorable Street Fighter character, this page lists E. Honda's references in general pop Culture since his introduction in Street Fighter II.
E. Honda makes a cameo at the Japanese Street stage in Capcom Fighting Evolution. He can be seen standing on the sidewalk, cheering on the fighters.
Other Video Games
Edit
Ganryu and Taka-Arashi, from the Tekken and Virtua Fighter series respectively, bear a striking resemblance to E. Honda. This is due to the archetypal outfit and haircut worn by many Sumos in fiction.

In Tekken 7 , Ganryu's Rage Art is similar to E. Honda's Orochi Breaker and the only difference is that Ganryu is slower when he punches and grapples the opponent before he sumo smash them into the ground upon impact.
Comics and Manga
Edit
Television and Animations
Edit
In Episode 9 of the anime series Yu Yu Hakusho, a look-alike of E. Honda is seen standing in the background at the front entrance of Genkai's temple during the start of her personal tournament in order to find a worthy successor for her psychic and spiritual martial arts.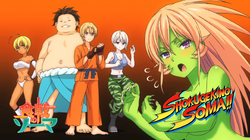 In the fourteenth episode of Food Wars, the post-episode card features parodies of the some characters dressed as Street Fighter characters. The one of the supporting characters, Isami Aldini, is dressed as E. Honda.
In the Starbomb song "Rap Battle: Ryu vs. Ken", Ryu has a line; "My rhymes are phat like the sumo E. Honda".
Community content is available under
CC-BY-SA
unless otherwise noted.