This article or section is a stub.
You can help the Street Fighter Wiki by expanding it.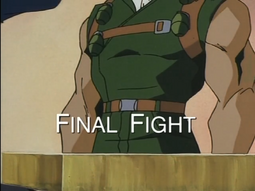 "Final Fight" is the twelfth episode in the second season of the Street Fighter TV series. The plot and title of this episode are based on and named after Capcom's arcade beat 'em up game of the same name.
The new Mayor of Metro City, Mike Haggar, finds himself in a tough situation when his daughter Jessica is kidnapped by a ruthless street gang known as Mad Gear, so it's up to Ryu and Ken to save her, along with Jessica's boyfriend Cody and fellow friend Guy. Escher, Guile and Haggar devise a plan to put Ken and Ryu undercover to infiltrate the gang and discover the whereabouts of Jessica, but Cody takes exception to this as he constantly screams at everyone in protest, nearly jeopardizing the entire plan. The four fighters encounter the Mad Gear gang's leader, Belger, within the group's headquarters and an intense fight soon happens. Ryu and Ken, along with Cody and Guy, are able to fight against Belger and his minions and in the end, the quartet defeats Belger and saves Jessica from the imminent danger while Haggar himself enters into the situation at the very end by breaking a door down.
Behind the Scenes
Edit
Guy's opponent in the ring looks similar to the Marvel Comics superhero, the Incredible Hulk.
Belger crashing through the top-floor window is similar to the ending of the first Final Fight game. However, instead of falling to his death, Belger's underpants snag on a flagpole and he is left dangling helplessly.