This article describes a project that is either fan-based or otherwise unofficial. The article exists because said content is of exceptional notability and/or has been given the approval of Capcom.
Green Ranger and Ryu is a live-action short film of Bat in the Sun's Super Power Beat Down. This short film is also the fifteenth episode of said series and it features Ryu and Tommy Oliver, the Green Mighty Morphin Power Ranger.
The battle between the wandering world warrior and a seasoned Power Ranger. Who will triumph over the battle of the two fated challengers?
The film begins with an overlapping shot of a city and cuts to an alleyway where Ryu fights an unnamed opponent, a large crowd cheering him on while Vega observes as he removes his mask. Ryu wins the fight, knocking his challenger out with an uppercut. The crowd cheers and Vega raises Ryu's hand as the victor, boldly asking who will be the next to challenge him. Suddenly, a beam of green energy strikes the ground behind the crowd, the beam fading to reveal the form of Tommy Oliver. Setting his sights on Ryu, he accepts his challenge. Vega looks at Tommy before telling Ryu: "I'm too old for this", and leaves, the terrified crowd following. Ryu and Tommy engage in their epic fight, with Tommy initially holding his own until Ryu lands a Hadoken on him, sending him sprawling.
Getting back up, Tommy morphs into his Green Ranger form, countering Ryu's fireball with one of his own. The fight resumes, with the two once more evenly matched, but Ryu still gains the upper hand when he strikes Tommy with another Hadoken that sends him through a wall and into an empty warehouse. Tommy summons his Dragon Dagger and their battle resumes, but Ryu destroys the dagger with a burst of Hado and lands a powerful Shoryuken on Tommy. The greatest Ranger refuses to back down and finally manages to gain the upperhand when he lands an energy covered roundhouse kick that floors Ryu.
An enraged Ryu rises back up, and Tommy realizes something is wrong as he begins to feel an ominous presence. Tommy witnesses Ryu succumbing to his inner darkness and roars with fury, eyes completely red, prompting him to summon his last resort, the Sword of Darkness, and Evil Ryu leaps into the air to unleash a Metsu Hadoken at full power. Tommy blocks the beam with his sword, but his helmet is destroyed. Evil Ryu lands back on the ground and unleashes a powerful Shakunetsu Hadoken, that Tommy endures for several moments before reflecting the energy back with his Sword of Darkness, which weakens Evil Ryu. Tommy ends the battle by impaling Evil Ryu through the chest, subsequently killing him. Tommy stands victorious, saying "Welcome to my nightmare!", drawing the film and battle to a close.
Alternate ending
Edit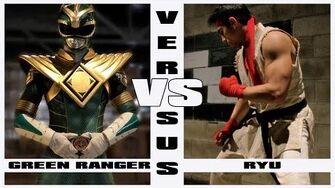 When Evil Ryu fires his Shakunetsu Hadoken at full power, it was even powerful enough to revert him back to his normal self, with Tommy unable to withstand the attack, seemingly dissipated into nothingness. In the aftermath of the battle, Adam Park appears behind Ryu, calling for another challenge as the film ends.
This episode of Super Power Beat Down marks the second time where Jason David Frank reprises his character of Tommy Oliver, this time as the Green Ranger. The first one is episode 10 where he fights Mortal Kombat's Scorpion as the White Ranger.

Peter Jang, who plays Ryu in that episode, also previously portrayed Scorpion in White Ranger vs. Scorpion. Jang reprised his role of Ryu in the Live-Action trailer of Power Rangers: Legacy Wars - Street Fighter Showdown, alongside Jason David Frank as the aforementioned Green Ranger and Ciara Hanna the Yellow Ranger from Power Rangers Megaforce.
Much like Frank's role as the White Ranger in the battle against Scorpion in the aformentioned SPBD episode, the Green Ranger's suit is heavily modified in a similar vein to that of the White Ranger's appearance of said episode. On a side note, he said a victory phrase at the end of the videos:

vs. Scorpion: "Game Over!"
vs. Ryu: "Welcome to my nightmare!"
Most of Ryu's attacks besides the Hadoken, are always empowered by his own Hadoken.
Jay Tavare reprises his role of Vega from the Street Fighter film in this crossover short film, his line "I'm too old for this!" is a reference from his fight with Sagat against Ryu and Ken in the original film, resurfacing as a spectator in Ryu's fight and subsequently raising the latter's hand as a winner in this short film.
Community content is available under
CC-BY-SA
unless otherwise noted.