The Guren Ken (紅蓮拳, Crimson Lotus Fist?) is one of Karin's special attacks, introduced along with her in Street Fighter Alpha 3. In Street Fighter V, Karin gains this special attack when her first V-Trigger is activated.
Input

| | |
| --- | --- |
| All appearances | +(+ or for varied follow-ups) |
Description
Edit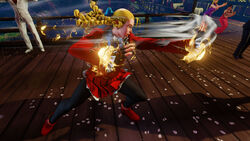 Executed by performing a quarter-circle forward motion and pressing punch, Karin steps forward while launching up to three palm strikes; the motions must be buffered to obtain the maximum amount of hits.
After any of the first two strikes, the player can choose one of these followups:
In Capcom Fighting Evolution, an alternate version called the Guren Ken: Kai (紅蓮拳・改, Crimson Lotus Fist: Revise?) is done with a half-circle forward motion and any punch button (

+

).
The horizontal distance covered in each step is determined by the strength of the punch button pressed during the move startup. The Light version travels the shortest distance, while the Heavy version covers a greater distance. Additionally, the huge plethora of follow-up attacks that allows Karin to perform several kinds of fancy combos, create escape routes and retort safely against all kinds of enemy attacks (with the except for projectiles, which Karin must evade against). However, despite the simplicity of the extra inputs, these setups must be precisely entered and timed properly, as Karin may whiff her move(s), leaving her vulnerable for a counterattack.
Similar moves
Edit
Community content is available under
CC-BY-SA
unless otherwise noted.