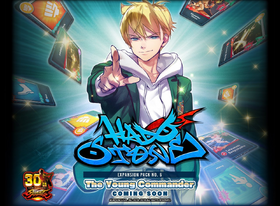 Hado Stone (ハドウストーン, Hado Stone?) is a card game presented by Capcom in the 2018 April Fools' Day.
Eons ago, the power of the Hado was sealed inside a demonic stone, and a wizard turned it into cards. A number of warriors were obsessed to obtain its power, resulting in several bloody battles for over 500 years.
Using the "Ancient Warrior Deck" (スーパー古の戦士デッキ, "Ancient Warrior Deck"?) he inherited from his father, Ed engages in an ancient card battle over the Hado Stone in his attempts to defeat the champions of Osaka.
The player can select one of four playable characters and 24 of the 30 cards available, either manually or with an automatic random selection. With the deck set, the player selects one of the four Shadaloo opponents (Balrog, Vega, Sagat or M. Bison) to duel against them, each with a different difficulty. Although detailed rules were given, battles are done automatically and finish in an instant, with the site saying that the player must "trust in the heart of the cards" to win. If the player wins, a "Face of Defeat" of the opponent is shown. Players that obtained all 100 Faces of Defeat (25 for each opponent) were rewarded with wallpapers of Ed in a sexy pose.[1]
Character Cards
Edit
| Character | Title | Type | ATK | SPD | HP |
| --- | --- | --- | --- | --- | --- |
| Ryu | Eternal Wanderer | Balance | 5 | 7 | 65 |
| Cammy | Techniques of Incomparable Precision | Speed | 6 | 8 | 40 |
| Zangief | Iron Cyclone | Power | 10 | 5 | 120 |
| Menat | Eyes of the Future | Tricky | 5 | 7 | 50 |
Tournament
Edit
A fictional tournament named "Hado Stone Champion's Cup in Osaka" (HadoCham for short) was set on Metro, City Osaka.
Merchandise
Edit
Hado Stone had fictional merchandises, including expansion packs (being on the sixth expansion pack) and a manga titled "Hado Stone: The Young Commander" (ハドウストーン 若き指導者, "Hado Stone: The Young Commander"?).
Mike Lunn
Edit
Mike Lunn is a joke character shown on the Shadaloo Combat Research Institute on April 1, 2018. Like Sheng Long in the previous April Fools' Day, Mike's picture has the word "uso" in it, meaning "lie" in Japanese. The profile was also said to be the "800th" and it has since then been removed from the site.
In his profile he is a famous player of the popular card battle game, Hado Stone. He was the winner of the last tournament. A young man with a wonderful smile. At the previous world's championship, he defeated the super-strong Peter with his overwhelming techniques and cheerful disposition. His favorite character is Cammy. He donated all of his prize money, which made headlines.
External Links
Edit
References
Edit
Community content is available under
CC-BY-SA
unless otherwise noted.