"Now for the finale! You can't escape! The end! (これで終わりだ/Kore de owari da!You can't escape!)"
—Alex
Heavy Hammer is Alex's Critical Art in Street Fighter V.
Description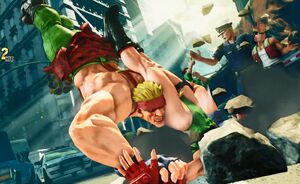 Alex's aura surrounds him as he performs a Flash Chop that spins his opponent around on hit. Alex follows up with a leaping Power Bomb, rolling over his opponent upon impact. With his opponent still on his shouldere, Alex launches into the air and dives diagonally downwards with a crucifix variant of his Power Bomb, slamming his opponent into the ground headfirst.
If this move results in a round victory, the opponent will be left with their legs pointing upwards out of the ground in a comical fashion. If the opponent blocks the move, or if the Critical Art doesn't hit, Alex performs three consecutive Flash Chops for guaranteed chip damage.
Gallery
Videos
Trivia
The diving Crucifix Powerbomb used is based off the real-life move used by the WCW/WWE wrestler Scott Hall (Ramon). Stephen Farrelly (better known as WWE's [1]) also utilised a running version of this move as well.
Alex's Heavy Hammer is the third Critical Art where the opponent's legs are sticking out of the ground if the move results in a knockout. The other's include Zangief's Bolshoi Russian Suplex and Birdie's Skip To My Chain.

Coincidentally, all three mentioned above use wrestling as part of their fighting style.