(12 intermediate revisions by one other user not shown)
Line 1:
Line 1:
 

{{Quote|Now for the finale! You can't escape! The end! (これで終わりだ/Kore de owari da!You can't escape!)|Alex}}

 

{{Quote|Now for the finale! You can't escape! The end! (これで終わりだ/Kore de owari da!You can't escape!)|Alex}}

 
 
−

'''Heavy Hammer''' is [[Alex]]'s [[Critical Art]] in ''[[Street Fighter V]]''.

+

'''Heavy Hammer''' is [[Alex]]'s [[Critical Art]] in ''[[Street Fighter V]]''.

 
 
−

{| align="center" border="1" cellpadding="1" cellspacing="1" style="width: 225px;"

+

{| align="center" border="1" cellpadding="1" cellspacing="1" style="width: ;"

 

|-

 

|-

 

! scope="row" |''[[Street Fighter V]]''

 

! scope="row" |''[[Street Fighter V]]''

Line 10:
Line 10:
 
 
 

==Description==

 

==Description==

−

[[File:HeavyHammer.jpg|thumb|300x300px|Alex spiking [[Cammy]] into the ground at the end of his Critical Art.]]

+

[[File:HeavyHammer.jpg|thumb||Alex spiking [[Cammy]] into the ground at the end of his Critical Art.]]

−

Alex's aura surrounds him as he performs a [[Flash Chop]] that spins his opponent around on hit. Alex follows up with a leaping [[Power Bomb]], rolling over his opponent upon impact. With his opponent still on his shouldere, Alex launches into the air and dives diagonally downwards with a crucifix variant of his Power Bomb, slamming his opponent into the ground headfirst.

+

Alex's aura surrounds him as he performs a [[Flash Chop]] that spins his opponent around on hit. Alex follows up with a leaping [[Power Bomb]], rolling over his opponent upon impact. With his opponent still on his , Alex launches into the air and dives diagonally downwards with a crucifix variant of his Power Bomb, slamming his opponent into the ground headfirst.

 
 
 

If this move results in a round victory, the opponent will be left with their legs pointing upwards out of the ground in a comical fashion. If the opponent blocks the move, or if the Critical Art doesn't hit, Alex performs three consecutive Flash Chops for guaranteed chip damage.

 

If this move results in a round victory, the opponent will be left with their legs pointing upwards out of the ground in a comical fashion. If the opponent blocks the move, or if the Critical Art doesn't hit, Alex performs three consecutive Flash Chops for guaranteed chip damage.

 
+
 
+

== Tactics ==

 
+

Like most Critical Arts, this move is used to end combos to deal large amounts of damage to the opponent. Heavy Hammer can be cancelled from Alex's special moves such as [[Flash Chop]] and [[Slash Elbow]]. Alex is also fully invincible during the startup frames of this move. If the opponent is constantly keeping Alex from a distance with fireballs, he can use this move to go through the projectiles and deal massive damage at the same time. 

 
+
 
+

Unfortunately, this move is very unsafe on block. If the first chop is blocked, then Heavy Hammer won't inflict full damage (230 vs. 340). However, it creates a minor block string that can give Alex a chip KO if his opponent is extremely low on health.

 
 
 

== Gallery ==

 

== Gallery ==

Line 23:
Line 28:
 

StreetFighterV 7 31 2018 12 21 50 AM.png|Ibuki stunned after the chop

 

StreetFighterV 7 31 2018 12 21 50 AM.png|Ibuki stunned after the chop

 

StreetFighterV 7_31_2018 12_22_12 AM.png|Alex lifts ibuki

 

StreetFighterV 7_31_2018 12_22_12 AM.png|Alex lifts ibuki

 
+

StreetFighterV 7_31_2018 12_23_28 AM.png|Alex puts his greater strength to use

 
+

StreetFighterV 7_31_2018 12_24_01 AM.png|Alex lifts ibuki for takeoff

 
+

StreetFighterV 7_31_2018 12_24_59 AM.png|Alex flying

 
+

StreetFighterV 7_31_2018 12_25_14 AM.png|Going down for the finale

 

</gallery>

 

</gallery>

 

==Videos==

 

==Videos==

Line 28:
Line 37:
 
 
 

== Trivia ==

 

== Trivia ==

−

* The diving Crucifix Powerbomb used is based off the [https://en.wikipedia.org/wiki/Powerbomb#Crucifix_powerbomb real-life move] used by the WCW/WWE wrestler Scott Hall ([https://en.wikipedia.org/wiki/Scott_Hall|Razor Ramon]). Stephen Farrelly (better known as WWE's [https://en.wikipedia.org/wiki/Sheamus|Sheamus]) also utilised a running version of this move as well.

+

* The diving Crucifix Powerbomb used is based off the [https://en.wikipedia.org/wiki/Powerbomb#Crucifix_powerbomb real-life move] used by the WCW/WWE wrestler Scott Hall[https://en.wikipedia.org/wiki/Scott_HallRazor Ramon]. Stephen Farrelly (better known as WWE's [https://en.wikipedia.org/wiki/SheamusSheamus]) also a running version of this move as well.

−

* Alex's Heavy Hammer is the third Critical Art where the opponent's legs are sticking out of the ground if the move results in a knockout. The other's include Zangief's [[Bolshoi Russian Suplex]] and Birdie's [https://streetfighter.wikia.com/wiki/Skip_To_My_Chain Skip To My Chain].

+

* Alex's Heavy Hammer is the third Critical Art where the opponent's legs are sticking out of the ground if the move results in a knockout. The other's include Zangief's [[Bolshoi Russian Suplex]] and Birdie's [Skip To My Chain].

−

**Coincidentally, all three mentioned above use wrestling as part of their fighting style.

+

**Coincidentally, all three mentioned above wrestling as part of their fighting style.

 
+

* Alex's Critical Arts is one of a few moves that has the fighter attack the opponent multiple times, even if the first hit is blocked

 
+

** Other include [[Hoyokusen]], [[Kanzuki-Ryu Hadorokushiki Hasha no Kata]], [[Psycho Barrage]], and [[Hard Hit Knee]].

 
+

* Despite different methods and fight styles and techniques, both Heavy Hammer and Ibuki's [[Kachofugetsu]] both pretty much follow the same concept of sending the opponent into the air and bringing them back down with impact.

 
+

{{Alex1}}

 

[[Category:Attacks]]

 

[[Category:Attacks]]

 

[[Category:Special Attacks]]

 

[[Category:Special Attacks]]
---
Latest revision as of 01:30, 19 May 2020
"Now for the finale! You can't escape! The end! (これで終わりだ/Kore de owari da!You can't escape!)"
—Alex
Heavy Hammer (ヘビーハンマー Hebī Hanmā?) is Alex's Critical Art in Street Fighter V.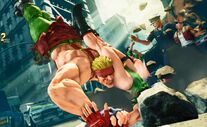 Alex's aura surrounds him as he performs a Flash Chop that spins his opponent around on hit. Alex follows up with a leaping Power Bomb, rolling over his opponent upon impact. With his opponent still on his shoulder, Alex launches into the air and dives diagonally downwards with a crucifix variant of his Power Bomb, slamming his opponent into the ground headfirst.
If this move results in a round victory, the opponent will be left with their legs pointing upwards out of the ground in a comical fashion. If the opponent blocks the move, or if the Critical Art doesn't hit, Alex performs three consecutive Flash Chops for guaranteed chip damage.
Like most Critical Arts, this move is used to end combos to deal large amounts of damage to the opponent. Heavy Hammer can be cancelled from Alex's special moves such as Flash Chop and Slash Elbow. Alex is also fully invincible during the startup frames of this move. If the opponent is constantly keeping Alex from a distance with fireballs, he can use this move to go through the projectiles and deal massive damage at the same time. 
Unfortunately, this move is very unsafe on block. If the first chop is blocked, then Heavy Hammer won't inflict full damage (230 vs. 340). However, it creates a minor block string that can give Alex a chip KO if his opponent is extremely low on health.
The diving Crucifix Powerbomb used at the end is also based off the real-life move used by the WCW/WWE wrestler Scott Hall/Razor Ramon. Stephen Farrelly (better known as WWE's Sheamus) also utilized a running version of this move as well.
Alex's Heavy Hammer is the third Critical Art where the opponent's legs are sticking out of the ground if the move results in a knockout. The other's include Zangief's Bolshoi Russian Suplex and Birdie's Skip To My Chain.

Coincidentally, all three mentioned above uses wrestling as part of their fighting style.

Alex's Critical Arts is one of a few moves that has the fighter attack the opponent multiple times, even if the first hit is blocked
Despite different methods and fight styles and techniques, both Heavy Hammer and Ibuki's Kachofugetsu both pretty much follow the same concept of sending the opponent into the air and bringing them back down with impact.
Community content is available under
CC-BY-SA
unless otherwise noted.