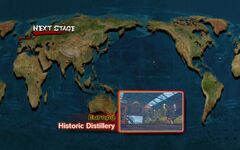 Historic Distillery is a stage introduced in Street Fighter IV. It takes place in Scotland, United Kingdom.
Description
Edit
This stage takes place at a distillery which appears to be owned by Shadaloo, which is located somewhere in Scotland. There are various workers in the background of the stage, including a man wearing a kilt holding a barrel who watches the battle. Behind him is a huge rack with barrels of Scotch whisky. Upon enough impact during battle, the shelves of the rack collapse, causing the barrels to roll onto the floor.
To the right of the stage is a worker who appears to be asleep. Upon enough impact during battle, one of the distillery's boilers lids pops open, causing the worker to wake up and start yelling into a walkie-talkie to dispatch. Deep in the background, there are sheep grazing in a field.
Community content is available under
CC-BY-SA
unless otherwise noted.