Houzantou is one of Guy's special attacks, introduced in Street Fighter Alpha 2.
Description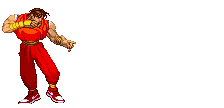 Executed by performing a quarter-circle back motion and pressing punch, Guy does a quick roll forward and violently jabs an elbow forward. This move serves as a good countering move, but the fierce version can also be used as an offensive move due to its far reach. All strength variations will knock down an opponent, but have a small, noticeable amount of start-up.
When properly timed, the attack can be used to evade a projectile and get a counter hit on the opponent (in most games giving bonus points for countering). In order to do so, the projectile must pass Guy when he does the 360 spin. If mistimed the move will be canceled.
In Super Street Fighter IV, the move has Armor Breaking properties in addition to an EX version of this move. In the EX variant Guy does a very fast Hozanto, great for startling opponents, costing one bar on the Super Gauge. Unlike most EX versions, this special has no immunity to projectiles aside from the 360 degree spin, though the move is very fast and hard to time. The EX version does 120 damage, 10 less than the medium Hozanto.