This article or section is a stub.
You can help the Street Fighter Wiki by expanding it.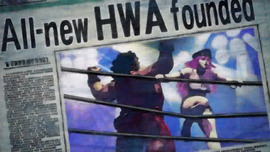 Huge Wrestling Army (ヒュージ・レスリング・アーミー, Huge Wrestling Army? H.W.A.) is a pro wrestling association formed by Poison and Hugo.
After the fall of the Mad Gear Gang Poison attempts to be a pro wrestling manager, but isn't having much success. After the World Fighting Championship, she convinced Hugo to work with her.
The H.W.A. was started,[1] and one of the random messages from Rashid's character story shows that Poison has the nickname "H.W.A._EPIC" in a social media, possibly to gather attention to the new group.
Hugo and Poison search for a strong fighter to be Hugo's partner. Depending on who Hugo faces in the final battle, he will force the last opponent to join him, forming a tag team for a match against the Capcom Wrestling Association. The possible tag teams are: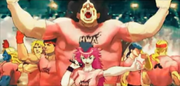 In Hugo's ending, he and Poison interrupt a match to announce that the arena and wrestlers now belongs to the Huge Wrestling Army, unless they manage to defeat Hugo. Over 50 challenged and lost to him, becoming members of the H.W.A., including Ryu, Ken, Gill, Alex, Ibuki, Remy, Yang, Yun, and Twelve.
The H.W.A. is mentioned in Poison's and Hugo's ending, where they formed the association after the search for Pandora. The two push their way into other wrestling competitions, and force whoever they beat to join their association.
↑ Street Fighter Memorial Archive: Beyond the World page 100
Community content is available under
CC-BY-SA
unless otherwise noted.