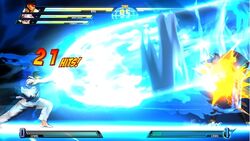 Hyper Combos (ハイパー コンボ, Haipaa Konbo) are special attacks used by fighters in crossover games, particularly in the Marvel vs. Capcom series and Tatsunoko vs. Capcom.
Description
[
]
As with Super Combos, some of them are more powerful versions of a certain technique (e.g. Wolverine's Berserker Barrage and Berserker Barrage X).
They differ from Super Combos in that they have easier inputs (requiring a special attack motion and two punches or kicks, similar to how EX Specials are performed) and are visually more spectacular; for instance, Ryu's Shinku Hadoken becomes a large energy beam.
Some Hyper Combos, such as Zangief's Ultra Final Atomic Buster, cost three power bars to perform instead of one. From X-Men vs. Street Fighter to Marvel vs. Capcom 2, those instances were rare, but they were made more common in Marvel vs. Capcom 3, where almost every character has a Level 3 Hyper Combo. Starting in Marvel vs. Capcom 3, with the transition to 3D character models, during Level 3 Hyper Combos, the camera would break from its normal fixed position to show a more dynamic, cinematic view of the gameplay, similar to the Ultra Combos in Street Fighter IV.
List of Hyper Combos
[
]