The Jackknife Maximum (ジャックナイフマキシマム, Jakkunaifu Makishimamu?), also known informally as the Up Kicks, is one of Dee Jay's special attacks, introduced in Super Street Fighter II Turbo.
Input

| | |
| --- | --- |
| All appearances | + |
Description
[
]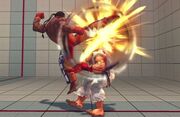 Executed by charging downward, then pressing upward and kick, Dee Jay leaps up and forward into the air while delivering a slashing kick(s).
The height traveled, startup time and number of kicks delivered (and thus, how much recovery time the move requires) are determined by the kick button pressed:
| Version | Effect |
| --- | --- |
| | Has the least startup time, travels the least and delivers only one kick. |
| | Has the longest startup time, travels the most and delivers three kicks. |
| | Balances in-between, with two kicks. |
| EX | Delivers five kicks (the last kick hits twice, thus scoring up to six hits) and travels the furthest into the air with the least startup time. |
Tactics
[
]
The move can be generally use as an anti-air or combo finisher, and can punish whiffed airborne attacks with lower priority. However, like all anti-air moves, Dee Jay will be vulnerable upon descent if the move misses or is blocked.
Gallery
[
]
Sprites
[
]