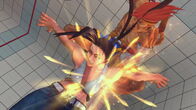 The Jaguar Avalanche (アバランチジャガー, Abaranchi Jagaa?) is Adon's second Ultra Combo in Super Street Fighter IV.
Description
Edit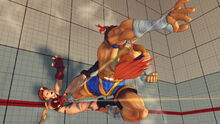 Executed by performing two quarter-circle forward motions and pressing all 3 kick buttons, Adon yells while performing a "hunting tiger" stance. He then launches a Rising Jaguar, following up with an aerial Jaguar Kick.
If the Jaguar Kick lands, Adon jumps onto the opponent's shoulders and delivers four fierce hand-chop strikes to their pectoral section, laughing maniacally as he does so. He then knocks the opponent down with a fifth hand-chop strike and finishes off with a brutal stomp to the midsection.
The Jaguar Avalanche can be used as an anti-air, and is also considered the better Ultra Combo for Adon, due to it having more combo advantages.
Community content is available under
CC-BY-SA
unless otherwise noted.