This article is about the Street Fighter character. For the voice actress, click here.
"Boom! That's how you start the fight and finish it quickly!
(

ドーンと始めて、パパッと終わらせちゃうよ!

Dōn to hajimete, papatto owara se chau yo!

?

)"
—Laura (Street Fighter V)
Laura Matsuda (ララ・マツダ/松田, Rara Matsuda?) is a video game character from the Street Fighter series, first appearing in Street Fighter V. She is a free-spirited, hyperactive Brazilian woman and the older sister of Sean.
Biography
Appearance
Laura has light tan skin, long black hair, the right side being worn loose and the left side starting as cornrow braids before blending with the rest at the back. She has light brown eyes, and a buxom figure.
She wears a bright green sleeveless martial arts gi with yellow linings and a tie at the center, matching bright green martial arts pants with yellow linings with a black belt to her waist, it has black and yellow linings and at the center resembles a bright green thong and black shin guards underneath her pants over bare feet.
She also wears several bracelets in different colors similar to Elena's. The color scheme of her outfit matches the Brazilian flag. Laura has one of the more revealing costumes among the playable females.
Her alternate costume consists of a short sleeved bright green mini shirt which uncovers half of her breasts and the word "bonita" (Portuguese for "beautiful woman") at the center of her mini shirt, denim short shorts with straps of her black thong exposed, brown gladiator-style sandals, yellow and red bracelets in both of her wrists and a red choker on her neck with a gold round at the center of her choker.
Her second alternate costume consists of a yellow, open jiu-jitsu gi jacket with black outlines, a black bikini top underneath, wearing a bright green buruma with a black jiu-jitsu belt just under her navel to her waist and black leg wraps on her feet. She also wears black fingerless gloves. Her braids are tied in a high ponytail.
Her premium swimsuit costume consists of a yellow and green (on the sides) basketball jersey with Sean's name written on the back, "The Leons" written on the front, and the number 5 written on both sides. Laura also wears golden earrings on both ears, three golden bracelets per arm, and a golden anklet per ankle. The material ends at her feet. The hidden variaton of this outfit removes the jersey, revealing a blue and purple one piece sling swimsuit underneath.
Personality
Described as "bohemian" (being socially unorthodox), Laura has a free spirited and energetic personality and enjoys thrills.[4] Similar to Makoto, she has a desire to promote her family's fighting style.
Laura also likes to give advice to others and her character-specific versus quotes imply that she is "very" easy to befriend too. Laura is very protective of her brother Sean and also can be quick to jump to conclusions, as seen when she mistook Ken for an enemy wanting to hurt Sean before the latter informed her about the misunderstanding.
Concept
The earliest design of Laura bore a near resemblance to Street Fighter EX fighter Pullum Purna, a later design had her resembling her brother Sean more closely.[6]
Laura's creation was proposed by Capcom Brazil, finding Blanka to be an ill-suited representative, along with the development teams desire to have as few Shotos as possible.[citation needed] Many of her designs heavily emphasized her sex appeal, particularly for her rear, but the Brazilian staff encouraged them to stray away from a full thong. The concept of her utilizing electricity was partially a joke about how Blanka is also capable of doing so as a Brazilian.[citation needed]
Character Relationships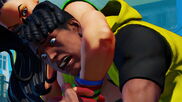 Her younger brother, upon whom she teasingly dotes and play-fights with. Apparently, however, her affections are one-sided, as Sean is annoyed that she never takes him seriously (a fact to which Laura herself is completely oblivious).
Ever since first meeting him, Laura felt like he was one of the best fighters she's faced when sparring with him. She immediately gives Ryu respect after she fought with him and acknowledges his inner power as being amazing.
Laura and Mika met in Mika's story mode after Zangief introduced them to each other (due to Laura being one of Zangief's grapple friends), they both respect each other for their fighting skill, style, and purpose.
She shows a tremendous amount of respect for Zangief as a wrestler and vice versa. Their versus quotes against each other imply that their relationship predates the events of Street Fighter V.
Story
Background
Laura Matsuda, her younger brother, Sean, and older brother, Fabio were all born in Brazil, though their father (Yuichiro Matsuda) and paternal grandfather (Kinjiro Matsuda) were Japanese (hence the surname). Yuichiro married Brenda and had three children (Fabio, Laura, and Sean). Laura has two maternal cousins (Enzo and Manuela Da Silva) who practice capoeira.
Laura was trained by Kinjiro in the art of the family's Matsuda Jiu-Jitsu. When Sean leaves at some point to become Ken Masters' apprentice and pupil, Laura becomes the heir of the art.
Heir to the Matsuda Jiu-Jitsu style, Laura looks for opponents to fight and to promote her fighting style. Before leaving her house to seek strong fighters, she hugs and teases Sean a bit. She encounters Birdie and offers him a free meal if they fight, afterwards Laura asks Birdie if he knows any strong fighters to which he points her in the direction of Karin. After their fight, Laura asks her if she knows any strong fighters, Karin replies by telling her about Ryu, after finding and fighting the wandering warrior, he talks about the Satsui no Hado. Later on, Laura meets and fights against Zangief who gives her tickets to a wrestling scouting event.
At some point during R. Mika's character story, Laura is fighting against R. Mika in a wrestling match while Zangief is watching both of them. Before her match with R. Mika is interrupted, Laura happily states that she was tougher than she thought.
In the main story, Laura was later seen teaming up with Alex in a tag team match against both Zangief and R. Mika. She gets the ring announcer's megaphone to inform the audience that their tag team match will become an epic showdown. Laura, Zangief, and R. Mika are cheering the audience while Alex shrugs at the trio until it was postponed due to the blackout made by one of the Seven Moons created by Shadaloo.
Laura is revealed to be carrying one of the chess pieces as mentioned by Sean who is almost intercepted by F.A.N.G. and his Shadaloo soldiers before Ken saves him. Laura arrives to see Ken, Cammy, Chun-Li and Sean who manages to put her brother in a headlock. She angrily mistakes Ken as the enemy who attempts to get the chess pieces until Sean corrects her, telling her that he was attacked by the Shadaloo soldiers who were beaten by them. Laura apologizes and makes a deal with Ken, in that should Ken allow her to join their group because of the chess piece that she carries, he will put Matsuda Jiu-Jitsu as part of his online karate. Ken agrees to her deal as Laura was excited to join with them to stop Shadaloo.
In the final assault against Shadaloo, Laura is last seen with the other fighters fighting off Shadaloo soldiers and the Dolls.
Other character story appearances
Blanka's Character Story
Sometime after Shadaloo's fall, Laura encounters Blanka sitting in the middle of the street admiring his Blanka-chan dolls. At the time, Laura didn't know what Blanka was doing and accidentally steps on one of the Blanka-chan dolls while scolding Blanka that he is getting in everybody's way. This cues a battle, in which Blanka wins. Laura chuckles and apologizes for stepping on the Blanka-chan doll. When Blanka explains that he was told that he could become popular, but he has too much overstock, Laura comes to the conclusion that the manufacturer cheated Blanka, and she and Sean give Blanka the idea for him to sell the Blanka-chan dolls in Japan, with Laura stating the (Japonés) Japanese will like them. She was considerate enough to give Blanka money to fly to Japan.
Gameplay
Fighting Style
Her fighting style is an original martial art inspired by Brazilian Jiu-Jitsu known as "Matsuda Jiu-Jitsu"[4].
Moveset
Laura uses grappling techniques and breaking throws. Some of her kicking moves are similar to Elena's Rhino Horn and she is able to manipulate electricity similar to Blanka. Her Thunder Clap projectile works in a similar fashion to Juri's Fuhajin and some of her special attacks include grabbing her opponent and breaking their leg while another involves slamming the opponent to the ground and breaking their arm.
Her Critical Art, the Inazuma Spin Hold has her grabbing the opponent in a tornado fashion in mid air and slams them to the ground, forming a lightning strike as she spins her opponent in a electric dodge ball (similar to Blanka's first Ultra Combo in the Street Fighter IV games) to finish her opponent with a headlock.
Interestingly, despite debuting in Street Fighter V, she is eligible to complete the Street Fighter III storyline in the game's arcade mode. This is likely because the designers have made her a stand-in of sorts for Sean, as she is even wearing his colors when she is fought by a character completing this storyline.
Live-action series
Laura appears in the live-action miniseries Street Fighter: Resurrection portrayed by Natascha Hopkins.
Comics
Laura appears in the Street Fighter V Free Comic Book Day comic in a short story. She fights Sean in the Brazilian Regional Jujitsu Finals. He accuses her of not using Matsuda Jujitsu when she uses her Volty Line move in which Laura tells him that he needs to break away from fighting just like their grandpa taught him, and try to incorporate new techniques into the foundation he has. Laura wins the match and Sean leaves dejected.
Subpages
Gallery
Quotes
Pop culture
Trivia
Laura is notable for having these distinctions in the series.

She is the third Brazilian fighter to appear in the mainline game series following Blanka and her younger brother Sean.
She is the heaviest known playable female character in the series.
She is the first playable Brazilian and Latina female.
She is the first playable grappler fighter to have a projectile (though it should be noted that Zangief's Banishing Flat actually used a projectile hitbox rather than a strike).
She's 6 years older than Sean.[7]
Laura shares her birthday with Rufus.
Laura plays volleyball for her local team.[8]
Whenever Laura summons her electric projectile, she is seen in a pose that involves both her hands touching her hair. This is also shown in her intro, outro and her selection pose. This was later confirmed as being the way she generates static electricity via her first V-Comment, which says "Anyone can release electricity! Rub your hair a little, and zap! Electricity!"[9]
Videos
See also
References