"Too bad."
—Menat
The Left Eye of the Lion is Menat's V-Reversal, introduced in Street Fighter V. 
Description
Edit
Executed by pressing forward and all three punches after blocking an attack, Menat teleports herself behind her opponent.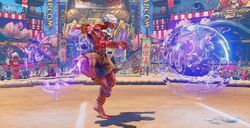 Like most V-Reversals, the purpose is to stop opponent's pressure or to get out of tough situations. This move gives Menat a good way to escape corner pressure. Even if this move is used from fullscreen, she still appears behind her opponent, making this a decent option to counter zoning characters who are constantly pressuring her with projectiles.
Community content is available under
CC-BY-SA
unless otherwise noted.