This article or section is a stub.
You can help the Street Fighter Wiki by expanding it.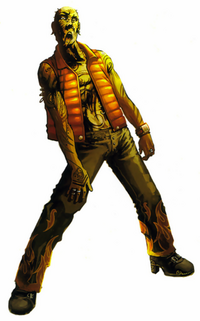 Lou "The Skin" is supporting character from the Final Fight series who appears in Final Fight: Streetwise. He is also the final boss of Arcade Mode.
Biography
Edit
Full of tattoos and multiple body piercings, Lou an accomplished fighter, and according to Kyle mentions possibly the best tattoo artist in the entire country. Though not Japanese, he has come to be embraced by the people of Japantown as one of their own, and has a strong relationship with Guy. When the player is first introduced to Lou, Kyle comments; "There's a fine line between genius and insanity. Lou just happens to re-ink that line from time to time." He also shows Lou a picture of the tattoo on Guy's arm. Lou recognizes the tattoo and drops the picture. When Kyle bends down to pick it up, he is ambushed with a blow to the head from a cash register, which leads to the fight with Guy's henchmen.
Pit-Fight
Edit
Lou is the most difficult Pit-Fight opponent. If he is hit more than twice, he will react with a flying donkey kick. He may also dash towards Kyle and violently flip him over, landing him on his bum, following up with a punch to the gut.
Community content is available under
CC-BY-SA
unless otherwise noted.