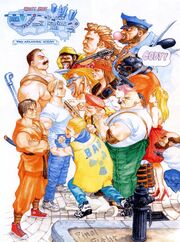 The Mad Gear Gang (マッドギア, Maddogia?) is a mostly dismantled Metro City street gang, featured prominently in the first two Final Fight games as the main antagonists. The Mad Gear Gang was named after an earlier unrelated Capcom game named Mad Gear, also known as LED Storm in the U.S.
The Mad Gear Gang, led by the crooked businessman Belger, controlled virtually all of Metro City, from the slums to the transportation systems all the way to the uptown district, with at least one policeman in their pocket. Though he proclaimed the gang was an outlet for the frustrated, disadvantaged youth of Metro City and a safe haven from the worst aspects of urban life, Mad Gear nevertheless was a racketeering and underworld enterprise under his lavish management. This situation came to a head when Mike Haggar was elected mayor after a campaign promising to be tough on crime.
The gang attempted to control the new mayor by kidnapping his daughter Jessica and holding her hostage. Rather than capitulating or negotiating, however, Haggar called on Jessica's boyfriend Cody and Cody's friend Guy, and fought back. The trio assaulted every ringleader in the gang that they could lay their hands on until they located Jessica in Belger's penthouse apartment. In the ensuing fight, Cody sent Belger through a window with a strong uppercut punch and that Belger himself would eventually meet his grisly demise via his own plummet to the street below, leaving the gang completely crippled without their own leader.
The gang members that remained had regrouped under the new leadership of a Japanese kabuki man named Retu and went international. In retaliation for the defeat they had suffered, they kidnapped Guy's girlfriend Rena and his old master Genryusai. Guy, however, was away training with Zeku and was unaware of the situation, so Rena's sister Maki enlisted Haggar's help, as well as that of a South American swordsman named Carlos Miyamoto. The new trio smashed Mad Gear hideouts around the world until learning from a defeated Rolento that Rena and Genryusai were being held in the gang's main headquarters in Japan. There, they fought and defeated Retu, and the Mad Gear Gang has not recovered nor been heard from since.
While Mad Gear makes no appearance whatsoever in this installment due to major blows in both its authority and influence, it is stated that the more violent and renegade Skull Cross Gang had found its origins as a subordinate sub-group of Mad Gear before the latter's final downfall and complete destruction.
Several members of the gang are known to have struck out on their own since the destruction of the gang, choosing paths as disparate as professional wrestling, attempting to found a utopian nation, starting a legitimate and legal business, to continuing in law enforcement. What became of the rest of the gang, or even how many survived their wars against Haggar and his allies, is currently unknown. Hugo, Rolento, Poison, Sodom, and Abigail have made appearances as playable characters, while various other members have made cameos throughout the series.
List of cameos
Edit
The Mad Gear Gang appear in the following games:
Underlings
Edit
Ringleaders
Edit
Underlings
Edit
Ringleaders
Edit
The following members only appear in the spin-off game Mighty Final Fight.
Other media
Edit
Several members of the Mad Gear Gang, such as Damnd, Rolento and Poison, appeared in the live-action fan film The Broken Gear: A Final Fight film.
References
Edit
Community content is available under
CC-BY-SA
unless otherwise noted.