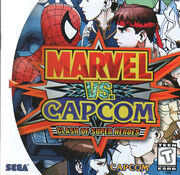 Marvel vs. Capcom (マーヴルVSカプコン Māvuru versus Kapukon?) is a sub-series of fighting games within the Versus series created by Capcom, in which characters created by superhero comic book company Marvel Comics and Capcom's own characters appear together. While it was the first Vs. series involving Capcom, the name Marvel exists to distinguish it from Capcom's other Vs. series.
The Marvel characters depicted in these games were often based on their incarnations in various early 1990s animated series and were often voiced by the same voice actors.
Many of the characters and fighting mechanics used in these games were first developed and refined in two other fighting games Capcom had developed earlier, serving as precursors to the series: X-Men: Children of the Atom, which featured characters strictly from the X-Men universe, and Marvel Super Heroes, which gleaned characters from Marvel's entire roster (X-Men included).
Although the tag-team fighting concept was not new, it was refined with this series. New fighting game terminology, such as the Aerial Rave (the act of performing a combo on an opponent while the opponent remains airborne) and the Variable Combination (the act of having two or more characters on the same team to perform their Hyper Combos at the same time) were added to the fighting game vernacular with this series.
Games
Precursor Games
Main games
Compilation
Story
There does not appear to be a concrete story behind each game in the series (up until Marvel vs. Capcom: Infinite), although several plot points run across the various games of the series. However, various pairs of characters - typically one Marvel and one Capcom, were often partnered with each other during game play (although later games randomized the partnerships so that it was possible to complete the game facing all-Marvel or all-Capcom teams). Marvel vs. Capcom: Infinite is the first game in the series to feature a proper story mode.
Throughout the earlier games, several interesting subplots emerge exclusively to the series, some of which contradict the others:
Psylocke is the one who rescues the amnesiac Cammy, who lost her memory after the battle with Apocalypse in X-Men vs. Street Fighter, from The Hand and its leader, Matsu'o Tsurayaba.
Wolverine seeks Akuma as he believes Akuma has information about his own past. However, in order to get the information from Akuma, he must win a fight to the death.
Chun-Li was made an honorary member of the X-Men, despite the lack of mutant powers on her part. Ryu is also offered membership in both the X-Men and Avengers, but turns it down both times, preferring to continue on his own path.
When Onslaught emerges, Charles Xavier subconsciously calls the Capcom heroes to help stop himself. Jin Saotome is attacked by M. Bison after defeating him and is near death, but the two cyborgs, "Shadow Lady" (Chun-Li) and "Shadow" (Charlie), revive him as a being like themselves.
In the Hulk's ending, Captain America makes the sacrifice. Meanwhile, Zangief battles Jin's Cyberbot, Blodia.
Magneto and M. Bison team up, intending on betraying each other at a later time. In Magneto's ending, Magneto eventually manages to get the upper hand and kills him. Bison's Shadaloo henchmen (Balrog, Vega, and Sagat) join him afterwards, fearful of Magneto's power. The opposite happens in M. Bison's ending.
Apocalypse captures Akuma and turns him into Cyber Akuma.
Charlie is kidnapped by Bison, who uses Shadaloo's technology to transform him to a super-soldier henchman known as Shadow. However, Shadow turns on Bison, who then tries to subject Chun-Li and Jin Saotome to the same fate.
In Sakura's Marvel Super Heroes vs. Street Fighter ending, she is seen as an adult and as a mother with a son.
Akuma is hinted to be the father of Dan. However, this ending, much like Dan himself, is a parody of SNK's Art of Fighting series.
In Ken's endings, the events of the games never actually happened. In X-Men vs. Street Fighter, he was playing the game itself with his son Mel, while the events of Marvel Super Heroes vs. Street Fighter appear to be a dream. He wakes up and continues his training with Ryu.
Characters
| Symbol | Meaning |
| --- | --- |
| | Playable |
| | Downloadable playable |
| | Hidden playable |
| | Only computer-controlled / Assist |
| | Not appear |
Marvel Characters
This is a list of all the Marvel characters that have appeared in the Marvel vs. Capcom series, most of which have appeared in Marvel comic books.
Notes:
[Note 1] Onslaught playable only on the PSX and Dreamcast versions
[Note 2] Galactus playable only in Galactus Mode
Capcom Characters
This is a list of all the Capcom characters that have appeared in the Marvel vs. Capcom series, most of which have appeared in other Capcom games:
Notes:
[Note 3] SonSon III's design based the SonSon series, but character is original.
Other Characters
External Links

Cite error: <ref> tags exist for a group named "Note", but no corresponding <references group="Note"/> tag was found, or a closing </ref> is missing