The Nikaiho (二蟹歩 Two Crab Strides) is F.A.N.G's V-Reversal, introduced in Street Fighter V. 
Description
Edit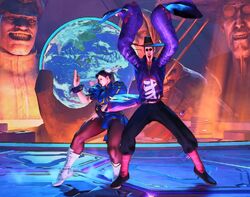 Executed by pressing forward and all three punches after blocking an attack, F.A.N.G. slides behind his opponent.
Like most V-Reversals, the purpose is to stop opponent's pressure or to get out of tough situations. F.A.N.G's Nikaiho is a solid escape option. While it does not inflict gray life like other V-Reversals, it is a great way for F.A.N.G to get out of the corner, switiching sides with his opponent so that they are in the corner instead.
Community content is available under
CC-BY-SA
unless otherwise noted.