This article or section is a stub.
You can help the Street Fighter Wiki by expanding it.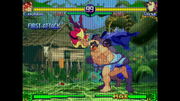 The Orochi Crush (大蛇砕き, "Great Serpent Smasher") is one of E. Honda's Super Combos in Street Fighter Alpha 3, exclusive to his A-ISM Super Combo Gauge, and only usable when it is filled to the maximum.
Description
Edit
Executed by performing two full circle motions in either direction and pressing punch with the Super Combo gauge at maximum, Honda tries to grab the opponent; if successful. he performs an Oicho Nage, slamming them three times before smashing them for massive damage.
Community content is available under
CC-BY-SA
unless otherwise noted.