For the gameplay element, see here.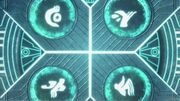 Pandora (パンドラ, Pandora) is the conjectural name of a mysterious cubical object that fell from space and crash-landed on Earth. It is the main plot point in the story of Street Fighter X Tekken.
Description
[
]
In addition to granting the personal wishes and hidden desires of people (as seen in the episodes and endings of the game), Pandora can cause a person's natural strength to skyrocket to levels beyond their natural limits, like Dudley, as he was able to punch back a Pandora-infused Mammoth, and even Pac-Man as he eats the box and grows to a gigantic size. The Box is able to change its color from light blue to pink, it is also able to awaken, merge with, and potentially influence other inner powers, as seen in Ryu and Ken's ending; it can also reject other sources of power, such as M. Bison's Psycho Power, This Box is also able to change the color of its appearance, has telekinesis, and even the ability to change the weather (as shown in the South Pole).
Physical and Psychological Changes
[
]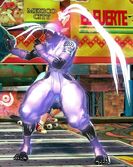 The energy from Pandora eventually corrupts the minds and souls of those under its influence, even the animal kingdom and those of artificial life forms such as Jack-X of the Jack series; its ability to influence minds has considerable range, being able to reach out to beings like Akuma, Ogre, Ryu, and others throughout the planet from its landing site.
The body of someone under the influence of Pandora takes on a purple and black aura with an emblem as well as white and pink markings on their body. their eyes glow red, their voice grows deeper (mostly gaining an echo effect), and their hair glows white, for Cole, his body will glow red and yellow.
Powers and Abilities
[
]
Pandora's energy can call out to other life forces from Earth throughout space, and can respond to emotional conflict (as displayed with Ryu in the comic book after getting into heated conflict with the G Corporation) and also has addictive qualities; those who are affected by its dark power become far more violent and dangerous, and lose self-awareness and control of themselves, they eventually begin to hear voices in their minds and begin to see hallucinations, as revealed in the case of Ryu, King and Akuma.
The energy form Pandora can crate force fields around an individual, the effects of Pandora is so powerful, it can even bring the deceased back to life, and can heal an individual, as well as cure sicknesses of any kind, as shown in the ending of Chun-Li and Cammy
Story
[
]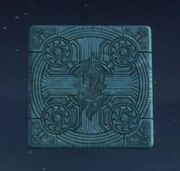 The Street Fighter X Tekken prologue comic book reveals that it was created by Ingrid as a 'gift' for Earth, and to test humanity by using the temptation of the box's power. The object crash-lands in Antarctica, and subsequently gains major media attention after its discovery. Studies on the object have revealed, however, that it appears to draw power from conflict, during which it releases a powerful energy. Researchers fittingly named it Pandora, after the Greek mythological figure and the conflict she unwittingly created by opening a box given to her by the gods.
The object has also drawn the attention of many fighters from the Street Fighter and Tekken universes, whose motivations are explained below.[1]
Street Fighter

[

]
Tekken

[

]
Others
[
]
Gallery
[
]
Trivia
[
]
References
[
]