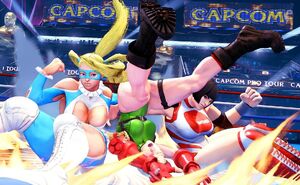 "Your guard's down! Nadeshiko!
Go for it, Mika!
Deadly! Peach!"
—Mika and Nadeshiko
Peach Assault (バッドリーピーチ, Baddorī Pīchi?, "Badly Peach") is R. Mika's Critical Art in Street Fighter V.
Description
[
]

Executed by performing two quarter-circle backward motions and pressing punch, R. Mika grabs the opponent and performs a Suplex throw. Yamato Nadeshiko appears and catches the opponent in a headlock before throwing them airborne. As the opponent falls down head-first, R. Mika and Yamato run towards each other, jump and launches themselves buttocks-first, sandwiching the opponent between, before pulling the opponent downward similar to a brainbuster.
Trivia
[
]
As seen in the final versions, R. Mika executing her Critical Art by slapping her buttocks on front was edited, being replaced by a quick slap at the left side of her buttocks while herself was shown in camera. Mika and Nadeshiko also no longer pull the opponent's legs into a split upon landing. This decision came from the team internally.[1]

Though removed, the original angle of Mika slapping her behind and the leg split was restored by modders for the PC version of the game.

As a protest by the community, many players uploaded videos mocking the censorship. With even a notable video showing all characters in the cast performing the start of the critical art (such as Ken and Chun-Li).
References
[
]
Gallery
[
]
Videos
[
]