This article or section is a stub.
You can help the Street Fighter Wiki by expanding it.
Pedestrians are common people seen walking in the streets. Note that while they are common and seen in multiple games, this article only covers appearances they can be interacted with the player.
Pedestrians are seen in the four parts of Metro City present in the game: Kyle's Hood, Pier District, Little Italy and Japantown, and they appear in several shapes. Kyle can talk with them, but except for side quests, they usually don't offer much help.
Kyle's reputation
Edit
Depending of Kyle's reputation in the area the way they interact vary. If his reputation is good, the civilians will praise him, but if it is low they will ignore or insult him, and even though they aren't a match for Kyle, some may even attack him if his reputation is too low (around 20% or less). Kyle's reputation starts at 30% for each area, and changes depending of his actions. Defeating bad guys will raise it for about 1% per enemy, while harming innocent people will reduce it about 10%.
Each pedestrian is given a random name.
Male pedestrians: (also used for Glow Heads)
Artie
Bad Brad
Baxter
Big G
Billy Boy
Chris
Coire
Danny D.
DJ Cecil
Dougsy
Fast Eddy
Felix
Franklin
Hector
James
Jason
Jayo
JB
Jeff
Jim
Joe Lo
Joey-joey
Johnson
Joker John
Jonathan

Junior
Justin
Kevin
Lyle
Mad Alex
Markie
Marty
Matty
Milton
Morrison
Mr. Jones
Oscar
Patrick
Pete
Roger
Sick Eric
Stan the Man
Stevey
The Keithster
Tommy
Walker
Wilson
Zack
Zimmerman
Female pedestrians:
Allison
Allyssa
Anes
Annie
Ariel
Becky
Betty
Christine
Conse
Crystal
Daniela
Donna
Doris
Ellen
Erica
Flo
Gabriella

Gertrude
Ginger
Grace
Janie
Jenny
Lara
Laura
Lillian
Lisa
Lynn
Marissa
Nicole
Rebecca
Renee
Shanita
Teresa
Bums:
Bill
Boozin Bob
Cranky
Friendly
Hungry Jak
Mr. Sunny
Nappy
Old Joe
Trashcan Man
Uncle Max
Hookers: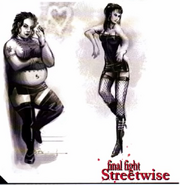 2 Hot 4 U
Bad Beth
Dreamy Diane
Janna Banna
Lucky Lara
Luscious Lizz
Miss Pleasure
Pinky
Pretty Baby
Rainbow
Roxanne
Shawna
Community content is available under
CC-BY-SA
unless otherwise noted.