The Quarrel Kick is one of Urien's unique attacks, introduced in Street Fighter III: Second Impact.
Input

| All appearances | + |
| --- | --- |
Description
[
]
Executed by pressing forward and Heavy Kick, Urien takes a small step forward and delivers a straight kick.
Tactics
[
]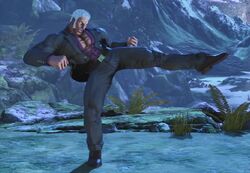 The kick is somewhat delayed due to the forward step. In return, it gives this move plenty of range making one of Urien's best pokes. This is best used as a surprise or disruptive attack. Despite it being -4 on block, Urien can still be safe if he spaces this move correctly.
Quarrel Kick is also one of Urien's Crush Counter moves. He can use this attack to fish for a Crush Counter hit, allowing him to perform some damaging combos. In addition, Urien can cancel Quarrel Kick into his Aegis Reflector V-Trigger. On hit, it gives him an opportunity to perform damaging combos or set up tricky resets and mix-ups.
Sprites
[
]
Gallery
[
]