Not to be confused with Air Reset, where the defending character is hit out of the air and they land on their feet.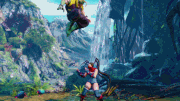 A Reset is an advanced tactic in Street Fighter games where the attacking character creates a situation to start Damage Scaling over from point one.
Description
Edit
In modern Street Fighter games the idea of Combos, which are a sequence of attacks due to Linking, Rapid Cancel, Target Combos, or other ways, that can keep hitting a victim without them being able to defend after the initial successful hit that started the entire sequence. Due to the character not being able to defend themselves, Damage Scaling was introduced to encourage combo optimization and discourage the rare Infinite.
Resets work with the idea of giving opponents a very brief time to control their players before getting hit again. In Street Fighter the general rule is the moment a player regains control of their character, no matter how long, Damage Scaling resets and the next successful hit will start from point one, despite the value of the attack that was used to set up the Reset. A very common set up is an Air Reset, where characters use the time where the opponent recovers to confuse the opponent on which side they will hit from next (as shown in the picture).
Resets are often part of competitive play as one or two successful resets can end a battle. Damage Scaling can make some bulkier characters such as E. Honda much harder to defeat than some 'frail' characters. In some reset characters bigger bodied characters can be harder to set up on. Some characters, like the Street Fighter V incarnation of Ibuki have been heavy reset oriented, in which her V-Trigger 2 is usually used for such purposes and does very little damage in an actual combo.
Vortex is very similar but usually depends more on knockdowns.
Community content is available under
CC-BY-SA
unless otherwise noted.