This article may or may not be a stub, but it's definitely missing something.
Specifically: Fighters' appearance in The Match of the Millennium are needed in the character table.
You can help the Street Fighter Wiki by giving us what we need.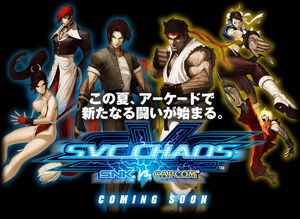 The SNK vs. Capcom (or alternately Capcom vs. SNK) series is a collection of fighting games by either Capcom or SNK featuring characters that appear in games created by both of these two companies. 
The games in this series either contain SNK vs. Capcom or Capcom vs. SNK, the first company name (in these cases) denoting the company behind the game's development. Games in this series appear for various platforms, including the Sega NAOMI (arcade), Neo*Geo (arcade and home system), PlayStation, PlayStation 2, Nintendo GameCube, Nintendo DS, Xbox, Neo Geo Pocket Color, and Dreamcast.
The supposed origin behind this series was an issue of the Arcadia magazine in which there were articles covering both The King of Fighters '98 and Street Fighter Alpha 3, both of which were released at around the same time. Readers had misread the cover, which said KOF vs. SF, suggesting that there was a fighting game that would pit characters from the Street Fighter and The King of Fighters series. Because of this uproar, Capcom and SNK supposedly signed a deal that would allow them to produce only two fighting games concerning both franchises in 1999 (the Card Fighters series were not fighting games and therefore were exempt from the rule).
It is possible that SNK vs. Capcom: SVC Chaos was made in order to fulfill the contract obligations[citation needed] that SNK made prior to the company filing bankruptcy and their eventual closing in 2000. If one company was the main developer of one game, the distributing company would gain the profits and not the company that licensed the characters for use. SNK gave the rights to use their characters to Capcom for the first Capcom vs. SNK game although SNK didn't profit from it.
There were interviews which SNK stated that it would be possible to renew their contract with Capcom to make new SNK vs. Capcom games[1] but in an another interview, both companies stated that they would not do any further collaboration with each other, SNK vs. Capcom: Card Fighters DS may possibly be the last crossover game between both companies.[2] However, in an interview from January 2009, Street Fighter producer Yoshinori Ono expressed interest in a possible third game if fans demand it.[3]
While obviously not a SNK vs. Capcom game, Bandai Namco's Tekken 7: Fated Retribution marks the first time in ten years (after Card Fighter DS' release) SNK and Capcom's characters clashes, in this case; Akuma and Geese Howard who both appeared as playable guest fighters in the 3D fighting game.
SNK-produced
Edit
Capcom-produced
Edit
Characters
Edit
SNK Characters
Edit
The King of Fighters charactersEdit
Fatal Fury charactersEdit
Art of Fighting charactersEdit
Samurai Shodown charactersEdit
The Last Blade charactersEdit
Metal Slug charactersEdit
Ikari Warriors charactersEdit
Other SNK characters
Edit
Original SNK characters
Edit
Capcom Characters
Edit
Darkstalkers charactersEdit
Ghosts 'n Goblins charactersEdit
Red Earth charactersEdit
Mega Man Zero charactersEdit
Power Stone charactersEdit
Star Gladiator charactersEdit
Original Capcom characters
Edit
References
Edit
External Links
Edit
Community content is available under
CC-BY-SA
unless otherwise noted.