The Sacrificial Altar is one of Necalli's unique attacks, introduced in Street Fighter V.
Description
Edit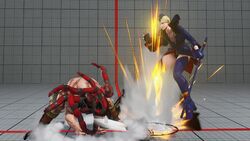 Executed by pressing Medium Kick, Heavy Kick, followed by (pressing back) Medium Punch and Medium Kick simultaneously. Necalli delivers a knee strike to the opponent's head. He then rotates and hits his opponent with a side kick, knocking them backwards. Necalli finishes the combination by slamming his hands to the ground with such power that it causes a minor earthquake, knocking his opponent even further back.
This is Necalli's only target combo that results in decent damage and a knockdown. It also creates space between himself and his opponent, thus resetting the neutral game. From long range, Necalli can use his V-Skill to apply pressure from afar, while building up his V-Gauge. Acquiring V-Trigger makes Necalli even more of a threat, so it is imperative to utilize this target combo, as well as his V-Skill whenever possible.
Community content is available under
CC-BY-SA
unless otherwise noted.