This article or section is a stub.
You can help the Street Fighter Wiki by expanding it.
Saikyo Donukigeri (サイキョー胴貫き蹴り, "Strongest Style Penetrating Kick") is Dan's V-Shift Break, introduced in Street Fighter V: Champion Edition.

Input
Saikyo Donukigeri
After successful V-Shift,

+

Description
[
]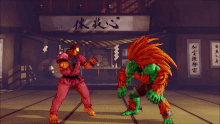 After dodging the opponent's attack, Dan steps in and kicks the opponent back, much akin to Ryu's Joudan Sokutogeri. On hit, Dan taunts his opponent afterwards.