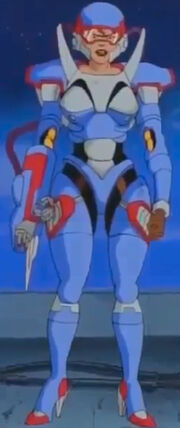 Satin Hammer is a recurring character in the Street Fighter animated series. She is voiced by Lynda Boyd.
Background
Edit
Satin Hammer was a specialist in cybernetic engineering for the U.S. Government´s Livermore Labs in California, but her theories on robotics were dismissed by highly placed officials in the Pentagon as weak, leading her to harbor resentment towards her superiors.
During her stint with Livermore Labs, Hammer was also dying from a medical condition, the true nature of which remains unknown to this day. Her superiors had promised to fund her research in exchange for a new android body; however, she discovered that they only wanted her research for themselves. Once they obtained it, the promised funding was slashed, leaving her a cyborg for the rest of her life. Embittered by this betrayal, Hammer went renegade.
In "Desert Thunder" the Native American Street Fighter known as T. Hawk was sent to infiltrate Hammer's organization to aid in the recovery of a top-secret laser weapon she stole. Part of his mission included stealing the weapon in question, which raises doubts of his loyalty to his fellow Street Fighters; when confronted by Blanka and Guile, T. Hawk confessed he lost sight of his original goal because of the losses in his past and an apparent attraction to Satin.
T. Hawk chose to help stop Hammer's attempt to destroy the Pentagon; during the fight, he tried to save her from falling to her death, but was thwarted by Hammer herself, who then disappeared. Satin Hammer reappeared in "The Hammer Strikes", where she attempted to detonate a nuclear device and was thwarted by Dhalsim.
Community content is available under
CC-BY-SA
unless otherwise noted.