This article or section is a stub.
You can help the Street Fighter Wiki by expanding it.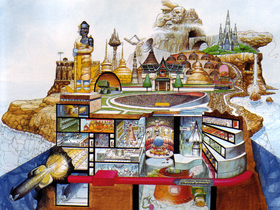 Shadaloo Headquarters is one or more of the secret bases of the Shadaloo organization.
Appearances
Edit
In Street Fighter II, Shadaloo's base is in Thailand, appearing to be vaguely near Bangkok.
In the Street Fighter Alpha games, Shadaloo bases are identified in Thailand and Brazil that seemed to contain technology and weapons sufficiently advanced to rival a medium-sized nation.
In Street Fighter Alpha 3, a series of plots showed the downfall of at least one of Shadaloo's bases in Thailand, greatly weakening him and the organization.
Street Fighter V features two stages, known as Shadaloo Base and Lair of the Four Kings, that take place in one of Shadaloo's many bases. The base features heavily in the game's story mode, A Shadow Falls, and towards the end of the campaign, Abel, who was working undercover in Shadaloo, revealed it to be the main headquarters of the organization. From above, the base is shaped like Shadaloo's logo, and seems to be located somewhere in or near China, as most scenes in the characters' story mode that are intended to take place near the base occur in the Bustling Side Street stage. The base is destroyed at the end of the story after Rashid deactivates the Black Moons and Ryu defeats M. Bison.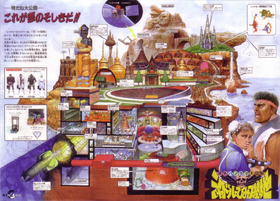 Details from the Shadaloo Secret Base (シャドルーひみつ基地, Shadaloo Secret Base?) in Street Fighter II.
Surface:
Underground:
Beelzebub
Edit
Beelzebub (しもべの星 ベルゼバブ, Shimobenohoshi Beruzebabu?) is a satellite with a large skull. It appeared in M. Bison's ending in Street Fighter Alpha 3 and in Street Fighter IV: Aftermath. It was also mentioned in Street Fighter × Tekken, where it detected, analyzed, and attacked Pandora while it approached Earth, but without success.
Other media
Edit
Merchandise
Edit
A Shadaloo Headquarters playset was released as part of the Street Fighter movie toy line.
Community content is available under
CC-BY-SA
unless otherwise noted.