The Shout of Earth (シャウトオブアース, Shauto obu Aasu?) is one of Blanka's Super Combos in the Capcom vs. SNK series, as well as his second Ultra Combo in Super Street Fighter IV. In Street Fighter V, this move is Blanka's second V-Skill.
Damage

| | |
| --- | --- |
| Anti-Air | 500 |
| Anti-Ground | 420 |
Description
Edit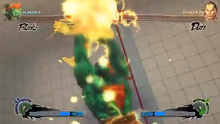 Executed by charging down-backward, then performing a "delta" motion (down-forward, down-backward then up-forward) and pressing either all three punch or kick buttons, Blanka will beat his chest while roaring, then perform a short backflip and pound the ground. What happens next is determined by whether triple punch or triple kick was pressed.
If punch buttons are pressed, Blanka releases the electricity in a vertical column which can hit airborne opponents (this version's timing can be altered by holding down the three punch buttons); on the other hand, if kick buttons are pressed, Blanka pounds the ground again while discharging electricity, thus causing standing opponents to be electrocuted.
In the Capcom vs. SNK games, Blanka generates an electric field around him, in a similar way to the Super Electric Thunder.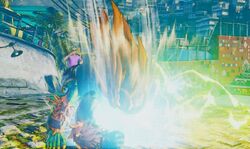 In Street Fighter V, this move is performed by pressing Medium Punch and Medium Kick simultaneously. If the buttons are held, Blanka beats his chest as his body surges with electricity. When he performs the fully charged version of his second V-Skill, the damage and range are enhanced. On hit, he launches the opponent high into the air, allowing Blanka to follow-up with another special attack. While holding Medium Punch and Medium Kick, Blanka can dash forward or back to cancel the V-Skill. However, he maintains the attack until her delivers it.
Community content is available under
CC-BY-SA
unless otherwise noted.