This article or section is a stub.
You can help the Street Fighter Wiki by expanding it.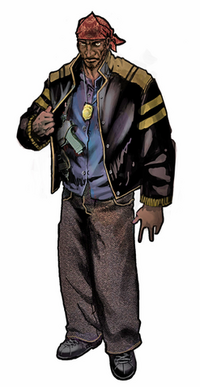 Sergeant Sims is supporting character from the Final Fight series who appears in Final Fight: Streetwise.
Sergeant Sims is a deep cover cop for the MCPD (Metro City Police Department). By the request of his sister, Vanessa, he assisted her boyfriend, Kyle into looking for his missing brother Cody. He wanted Kyle not to get involved due to the danger Cody was in. Sims also sought to arrest Cody for using Glow, a highly addictive drug that increases the physical attributes of the user. When Sims traced the source of Glow to a church in Little Italy during the city riots, Sims along with Kyle and whatever officers he had left attempted to storm the church. Unfortunately Sims lost all his men after Father Bella, the mastermind behind the drug, threw grenades at them while simultaneously a small army of Glow Heads attacked them. Only Sims and Kyle were left when they were able to enter the church. Father Bella sent out two of his four horsemen to take care of them. Kyle defeated the Horseman War, but was only seconds too late to save Sims from decapitation by Famine.
Community content is available under
CC-BY-SA
unless otherwise noted.