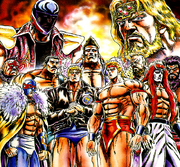 Slam Masters, known as Muscle Bomber (マッスルボマー, Massuru Bomā?) in Japan, is a series of fighting games released by Capcom in the 1990s. Like the Final Fight series, it is considered to be part of the Street Fighter games, being set in the same universe. Its games features character designs by manga artist Tetsuo Hara, famous for his work on the Fist of the North Star manga/anime series.
Saturday Night Slam MastersEdit
Saturday Night Slam Masters, known as Muscle Bomber – The Body Explosion (マッスルボマー ザ・ボディー・エクスプロージョン, Muscle Bomber – The Body Explosion?) in Japan, is a pro wrestling game released for the CP System arcade in 1993 and later ported for the SNES and Sega Genesis in 1994.
Muscle Bomber DuoEdit
Muscle Bomber Duo (マッスルボマーDUO, Muscle Bomber Duo?) is an updated version of Saturday Night Slam Masters released only in Japan in 1993. Instead of single matches like the original game, Muscle Bomber Duo features tag matches. The same character can now be chosen by more than one player and each wrestler now has two additional special moves: a dual side attack and a vacuum move.
Although the players can choose and pick their team as they please, there are five "official" combinations that the game will recognize and give a name to. The official tag teams are as follows:
Hyper Cannons (Biff and Gunloc)
Exotic Warriors (Rasta and Oni)
Deadly Brothers (Titan and Stingray)
Knuckle Busters (Haggar and Grater)
Silent Assassins (Scorpion and Jumbo)
Ring of Destruction: Slam Masters IIEdit
Ring of Destruction: Slam Masters II, known as Super Muscle Bomber – The International Blowout (スーパーマッスルボマー – The International Blowout, Super Muscle Bomber – The International Blowout?) in Japan, is a sequel to Slam Masters released exclusively for the CPS-2 arcade in 1994. The game's format was changed to play like a traditional one-on-one 2D fighting game (similar to Super Street Fighter II), with the action restricted to one plane. The game's configuration was changed to a five-button setup (two punch buttons, two kick buttons and a grappling button). The objective of each match is to deplete the opponent's life bar in two out of three rounds. It is no longer necessary for the player to pin their opponent to win a match, although all the other moves have been retained.
All ten playable characters from the original Slam Masters returned, along with four new selectable characters: Victor Ortega, Black Widow, The Wraith, and Rip Saber.
Professional wrestling experienced a unprecedented boom in popularity during the early 1980s, where many small and large professional wrestling organizations were started all over the world. A severe rivalry existed among the organizations.
In order to resolve their conflict, eight organizations combined to form the Capcom Wrestling Association (CWA), led by Victor Ortega, the federation's first champion, known as the "Master of Muscle Bomber".
One day, Ortega suddenly vanished. He was considered to be the axis of the sport and his unexpected disappearance caused the CWA to enter an age of confusion and disorder. The Blood Wrestling Association (BWA), a dark underground wrestling organization, chose to take advantage of this opportunity and began moving. Deciding that staying without a leader was a problem, CWA held a world tour "Crash Carnival" with "Muscle Bomber = Destiny of the Strongest" as the theme to determine who would be the new Master of Muscle Bomber.
At the end of the tournament, Victor Ortega reappears, saying that he had left because he couldn't find anyone strong enough to give him a decent challenge. Now he's back to reclaim his title, starting another tournament to decide the true Master of Muscle Bomber.
Characters
Edit
Playable characters
Edit
Non-Playable Characters
Edit
External Links
Edit
Community content is available under
CC-BY-SA
unless otherwise noted.