This article or section is a stub.
You can help the Street Fighter Wiki by expanding it.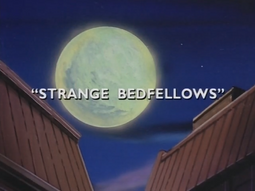 "Strange Bedfellows" is the thirteenth and final episode in the first season of the Street Fighter TV series.
A mysterious warrior starts destroying both M. Bison's strongholds as well as those under Street Fighter jurisdiction. Both sides blame the other and it eventually comes down to Bison and Guile meeting on a volcanic island for a final showdown. However, clumsy clues were given to both warriors that lead them to the location of the battle by none other than Akuma himself. Akuma wants both Bison and Guile to fight each other to the death, where Akuma will then destroy the winner and steal their chi. Bison and Guile are forced to work together and eventually attack Akuma. Despite Bison and Guile's reluctant teamwork, Akuma is able to escape via teleportation and both Bison and Guile decide to postpone their own battle and head their separate ways, much to the shock and disbelief of their own teammates.
This is the only time in the series where Guile and M. Bison work together.
Community content is available under
CC-BY-SA
unless otherwise noted.