This article describes a project that is either fan-based or otherwise unofficial. The article exists because said content is of exceptional notability and/or has been given the approval of Capcom.
This article may or may not be a stub, but it's definitely missing something.
Specifically: Trim some of the larger sections and make them a little less informal.
You can help the Street Fighter Wiki by giving us what we need.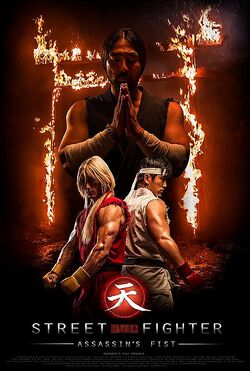 Street Fighter: Assassin's Fist is a live-action TV series based on the Street Fighter video game series. The show is created by Joey Ansah and Christian Howard, who co-directed, co-wrote and co-starred as Akuma and Ken Masters in Street Fighter: Legacy. It premiered on May 23, 2014 on Machinima's YouTube channel.[1] 
Plot
[
]
The series focus on Ryu and Ken Masters, as they live a traditional warrior's life in secluded Japan. The boys are, unknowingly, the last practitioners of the ancient fighting style known as Ansatsuken (Assassin's Fist). The plot follows them as they learn about the mysterious past of their master, Gouken, the tragic and dark legacy of the Ansatsuken style, and whether or not the two can change their destiny. The episodes parallel Ryu and Ken learning of advanced Ansatsuken techniques with flashbacks to the past when Gouken and Akuma were students of Goutetsu.
The series touches upon many things that are not quite explained in the games themselves, such as the origin of Ryu and Ken's stance, Dan Hibiki's brief enrollment in Gouken's dojo, Akuma's way of using the Satsui no Hado, and his descent into darkness as he embraces it to the greatest extent he can manage before his confrontation with Goutetsu.
Cast & Crew
[
]
Cast
[
]
Crew
[
]
Joey Ansah - Co-Writer, Director
Christian Howard - Co-writer
Jacqueline Quella - Producer
Development
[
]
Both Ansah and Howard spent the last three years prior to the series' debut writing, beginning with a script treatment for the "World Warrior" storyline around Street Fighter II, which would span a prologue series and then a feature film finale. After the success of Street Fighter: Legacy, the two decided that they would put the "World Warrior" scripts on the shelf, to be used down the line as a bigger-budget sequel, and instead work on the origin story of the Ansatsuken characters: Ryu, Ken, Gouken, Gouki/Akuma and Goutetsu. The resulting work is a Japanese-centric storyline, a warrior's tale and a coming of age story for Ryu and Ken as boys become men, told in parallel with the dark tale of the generation that came before them, filled with tragedy, loss and heartbreak.
This story really contains all the elements of universal, classic, conflict-based storytelling: father vs. son, brother vs. brother, a love triangle, betrayal, revenge, and the ultimate question: "Can a man change his destiny? Or will the inevitable catch up with him?".
It seems as though the film draws many inspirations from the 2005 animated film based on the franchise, titled Street Fighter Alpha: Generations, whose beginning portion encompasses part of the story told in Assassin's Fist. The physical appearances of Gotetsu and young Goken, the presence of a girl named Sayaka, and the overall sequence of events in the fight between Gotetsu and Akuma mirror those of Alpha: Generations. However, it should be noted that Assassin's Fist changed a few things about Sayaka: She was clarified to be Gotetsu's niece, made into a more important character, and the part where she coughed blood in Alpha: Generations (showing that she was pregnant, most likely by Akuma) was dropped (though it was obvious in other ways that Sayaka was attracted to Akuma).
Production
[
]
After the short film, Street Fighter: Legacy, was released on YouTube in 2010 as a proof-of-concept, Capcom announced during San Diego Comic-Con International 2012 that it had granted rights to the creators to go ahead with the project.[17]
The series started a Kickstarter crowdsource funding campaign in order to source funds for production.[18] The campaign was cancelled on April 17, 2013 when private backers stepped forward with the money necessary, removing the need for the crowdsource funds.[19]
On July 14, 2013, production began filming in Simeonovo, Sofia, Bulgaria. [20][21][22] On August 24, 2013, filming on the series wrapped. [23]
On August 20, 2013, in an interview with gaming magazine Game Reactor, Ansah talked about Ryu and Ken's story and said "a good analogy with Ryu is that he's not actually ever competing with anyone else; he's competing with himself to Ken is driven fiercely by competition. A lot of Ken's conflict comes from his relationship with his father. Without giving too much away, we learn in this series how Ken came to be in Japan, in Gouken's dojo".[24] On November 1, 2013, Content has sold worldwide online rights for Street Fighter: Assassin's Fist to a major global online channel for a short first window. Other key territories snapped up for subsequent rights and windows include: UK, Australia, US, Canada, New Zealand, South Africa, Scandinavia (Funimation); German-speaking Europe and Benelux (Polyband); Central & Eastern Europe, Russia, Turkey, Middle East (Daro); Thailand (IPA Asia); Portugal (Lusomundo), and South Korea (Sonamu) and handling worldwide sales on the film for all media.[25]
On March 14, 2014, Capcom and Machinima announce that the series was gonna air on Machinima's main channel.[26] The series was stated to air in May 2014.[27] On April 18, 2014, it was revealed that the series would be released in four formats altogether. Machinima.com first released it as a 12-part web series at 11–12 minutes each. The 12 episodes was then combined into 6 episodes at 21–22 minutes each for a TV mini-series on a currently undisclosed network. Afterwards, it was released as an edited 105-minute TV movie for syndicated television, and finally as the full 2+ hour uncut feature film as it was originally shot for release on DVD/Blu-ray.[28]
The series was first released via Machinima on May 23, 2014, followed by the release in other formats at later dates.[1] Funimation has acquired the home video distribution rights and released the webseries on DVD and Blu-ray under their Giant Ape label. In addition, Madman Entertainment and Manga Entertainment also released the series in Australia and the UK, respectively. Ansah announced that the Blu Ray and DVD would be released in Japan and Germany in August, with a release on United States, Canada, the United Kingdom and Australia following in October.[29][30][31]
Episodes
[
]
Second season
[
]
On August, 2013, Ansah discussed to Shogungamer that if the show was a hit, he would like to have Scott Adkins as Guile and do a World Warrior story, even seeing Chun-Li as well.[32][33]
On June, 2014, Ansah talked about the second season, hinting at its possible revelation at the 2014 San Diego Comic Con.[30]
On July 25, 2014, Anash announced that a second season is in development titled Street Fighter: World Warrior which may release in late 2015 or early 2016. [34][35][36]
Gallery
[
]
Film
[
]
References
[
]
External links
[
]