Street Fighter: Legacy is a live-action short fan film based on Capcom's popular fighting game series Street Fighter.
Capcom are said to have "given their blessing" to the film, and the film was released on May 6, 2010.[1]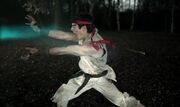 The film follows Ryu after waking up from a nightmare of Akuma. While walking in the forest, he is followed by a mysterious warrior revealed to be Ken Masters, Ryu's old friend and sparring partner. The two have a match together using their signature moves, the Hadoken, Shoryuken, and Tatsumaki Senpukyaku in the day time and night time in the rain. The film ends with the two in mid-air about to kick.
Production
Edit
The film is a Streetlight Films production, co-directed by Joey Ansah (of The Bourne Ultimatum) and Owen Trevor, produced by Jacqueline Quella and stars Jon Foo as Ryu, Christian Howard as Ken Masters, and Ansah himself as Akuma. Both Ansah and Howard are also the writers of the film.
There are currently plans for a series and several cast members have already been locked down.
A silicon glove covered in flame gel that was literally set on fire was actually worn by Christian Howard when performing the beginning of the Shoryuken.
References
Edit
External links
Edit