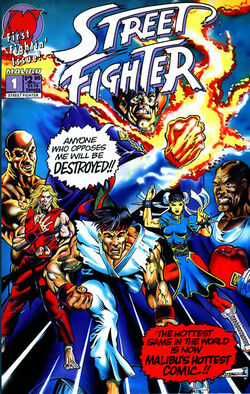 The very first issue of Malibu's Street Fighter Comic. Released in 1993, the comic was the first, and introduced in a setting possibly after the events in Street Fighter II mostly because of the mentioning of the encounter Sagat had with Ryu. The comic is not canon and gives a completely different story from the original games.
Summary
[
]

Ryu is fighting Sagat in the street with a crowd. Ryu uses his "Dragon Punch", giving Sagat the scar he has on his chest. The fight was just a playback on a TV that Sagat destroys in anger. Balrog is behind him bad-mouthing him. Sagat and Balrog then have a brawl on the spot.
They are then interrupted by M. Bison, who yells at them, declaring they both work for him, and that Ryu must be defeated for him to carry out his evil plans and so Sagat can be the Street Fighter Champion once again. Sagat complains that Ryu won't challenge him even if he threatens him. Then they get a plan that if they threaten his friends Ken or Chun-Li he might have to fight.
Meanwhile Ryu sneaks on Chun-Li and she gets really angry at him and have a battle to prove that she is the most powerful woman in the world. Ryu then says afterwards that she is. Chun-li then undoes her buns and tries to make out with Ryu. Ryu rejects the kiss and tells her that they are together to train. Chun-li gets angry and tells him all he cares about is fighting and he has no time for love and friends. Ryu tells Chun-li that ever since the tournament Ken turned into a celebrity and is done with street fighting.
Later on, Ken is doing a commercial and then leaves to a bar. After some women decide to have a drink with him, he wonders why he is there he should be training. Ken sneaks out and comes across Balrog. Balrog immediately starts a fight with Ken. Ken gets beaten badly, realizing he hasn't had a serious fight in awhile. Ken then makes a good comeback but then is interrupted by bullets from gang members helping Balrog to escape. Ken thinks it's over, then Sagat appears behind him.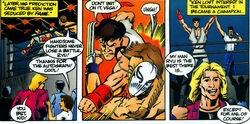 See also
[
]