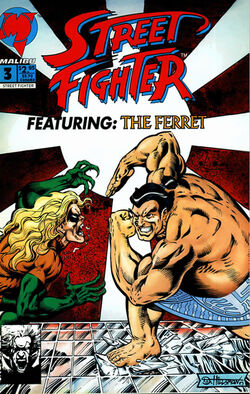 Malibu Comics' third and final issue of the Street Fighter comic series. The series was canceled because of its unpopularity with Capcom.
All over the world, various fighters from the previous tournament learn of Ken's apparent death, and vow to avenge him. Meanwhile, Bison continues to train Sagat, keeping his mind occupied on improving his fighting abilities to keep his mind off his guilt for Ken's apparent death and turn him into a killing machine. Bison also has one of his agents poison Ryu and Ken's former master Sheng Long, leaving him paralyzed. Although Bison doubts that Sheng Long will die, he is convinced that he will not be a threat to him for a long time, and tells Balrog that Ryu is now their only concern.
On the island of Okinawa, where Sheng Long lives, the great martial arts warrior is being nursed back to health by Nida, a street fighter from the Philippines who came to Okinawa to learn the ways of Shotokan karate, Sheng Long's fighting style. Sheng Long is surprised that his pupils Ryu and Ken haven't come to visit him, but Nida tells him of a new street fighter tournament that is approaching and believes that they might be training for it. Sheng Long promises [[Nida to teach him Shotokan karate once he recovers, but she fears that he may never be able to overcome the deadly poison in his body. After leaving Sheng Long to rest, Nida goes into another room to train, and smashes a dummy bearing a photo of Ryu, vowing that once he defeats Ken's killer to restore their master's honor, he will have to face her next.
The third and final issue of "Street Fighter" included an epilogue which revealed what would have happened to the various characters had the comic continued. Amongst other developments, Ken would have been revealed to have survived, Ryu and Chun-Li (who were shown to have romantic feelings for each other in the first issue, but hadn't gone beyond kissing) would have finally ended up together, Sagat would have redeemed himself for siding with Bison, and it would have been revealed that Bison had conspired with "dark forces" to create evil doubles of the various street fighters around the world, one of which (an evil double of Ryu) had killed Nida's father.
According to the epilogue, the comic had been cancelled due to complications with Capcom and their dislike of the comic, and expressed the hope that someone would continue to publish the comic.
See also
Edit
Community content is available under
CC-BY-SA
unless otherwise noted.