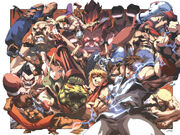 Street Fighter is a comic book franchise based on Capcom's famous fighting game series of the same name. Published by UDON, it first launched in September 2003. This series is loosely based on the established Street Fighter canon, and also occasionally addresses other various continuities and official sources as well.
Comics
[
]
Street Fighter

[

]
Street Fighter follows various storylines set around different series characters. Various writers and artists contributed to each issue working separately on independent short stories that occasionally tied into a main storyline. Some plot points featured in this series include:
Street Fighter II

[

]
After a break of several months, Udon's second Street Fighter story arc began under the title Street Fighter II because the events slowly approach those of the game Street Fighter II. The main story follows Ryu as he searches for Akuma, who has just murdered his master. Ryu wants to avenge his master Gouken, but avoid succumbing to the Dark Hadou – the dark power buried in his style of martial art that Akuma has embraced.
Street Fighter II: Turbo

[

]
The second Street Fighter tournament begins in earnest as fighters from all over the world compete to see who is the World's Strongest. This is a continuation of UDON's Street Fighter II series as Ryu finally gets prepared to battle Akuma to so he get revenge on him for taking the life of Gouken.
Street Fighter Legends series

[

]
Street Fighter Legends is a series of four issue comic books focusing on the female fighters of the Street Fighter cast.
UDON created an ongoing side-story to the Street Fighter universe, focusing on the life of Sakura and the events that happened since she and Ryu parted ways at the end of Street Fighter #14.
The second of UDON's Street Fighter Legends series follows Chun-Li as she investigates the mysterious criminal organization Shadaloo as well as her father's disappearance.
The third Street Fighter Legends series follows Ibuki as she struggles between her life as a ninja and a normal teenager, and also features Makoto and Elena in prominent roles.
The fourth and latest of the Legends seris follows Cammy as she leads the newly formed "Delta Blue" team which includes Abel, Juli, Juni, and Ginzu.[1]
Street Fighter IV

[

]
The Street Fighter IV comic currently consists of a four issue miniseries detailing the actions of several fighter's interactions with S.I.N. in leadup to the tournament they host.
Street Fighter Origins: Akuma

[

]
As the name suggest, the comic focus on the backstory of Akuma.
Super Street Fighter

[

]
UDON's newest Street Fighter comic series is based on the stories of the Street Fighter III games and Super Street Fighter IV. Volume one (Super Street Fighter: New Generations) and volume two are available in comic stores.
Street Fighter Super Combo Special (Free)

[

]
A new exclusive Street Fighter comic book was available for free on free comic book day, May 2nd, 2015. The book features Ryu, Charlie, Guile, Viper and Ibuki in battle in the following order.
Ryu vs. Charlie
Guile vs. Charlie
Guile vs. C. Viper
C. Viper vs. Ibuki
Ibuki vs. Ryu
Ryu vs. Ken (no winner shown)
The comic also has inconsequential artwork of characters including Ibuki, Sarai, Cammy, Juri, and C. Viper among others. Comical panels are also included.
Street Fighter V

[

]
Udon stated that they had plans for comics tie-in for Street Fighter V and that they were working with Capcom in order to have the right amount of synergy with the game's story.[2] The first Street Fighter V-related comic from Udon, Street Fighter V: The Life and Death(s) of Charlie Nash, focus on Charlie's status since his last appearance in Udon's Street Fighter comics, and the details behind his "revival" leading up to his appearance in Street Fighter V. The comic was first available at the San-Diego Comic-Con International 2015, and was originally not available in stores[3] but it was later released as a one-shot comic in March 2016.[4] A limited edition Street Fighter V comic book, titled Street Fighter V #1, was scheduled for "Free Comic Book Day" in 2016. The one-shot special features three all-new stories focused on the new and returning cast of the game.[5]
Street Fighter Unlimited

[

]
Unlimited is a monthly Street Fighter comic series that is both print and digital. The first issue arrived on December 2015, and the series continued monthly through 2016. [6] The series focuses on characters, and events leading up to those from Street Fighter III.
Street Fighter: Necro & Effie

[

]
Street Fighter: Akuma vs. Hell

[

]
Street Fighter #100: Ryu versus Chun-Li

[

]
On May 2, 2020, the 100th Street Fighter comic by UDON was released on Free Comic Book Day. The comic, which celebrates UDON's 20th anniversary, focus on a battle between Ryu and Chun-Li.[7]
Crossovers
[
]
Gallery
[
]
Street Fighter comic series

[

]
Chronological reading order
[
]
Street Fighter Origins: Akuma (side story)
Street Fighter Legends: Chun-Li (side story)
Street Fighter Classic Vol.1 (main story)
Street Fighter Classic Vol.2 (main story)
Street Fighter Legends: Sakura (side story)
Street Fighter Classic Vol.3 (main story)
Street Fighter II Turbo Vol 1 (main story)
Street Fighter IV (main story)
Street Fighter Legends: Ibuki (side story)
Super Street Fighter Vol.1 (main story)
Super Street Fighter Vol.2 (main story)
Street Fighter Unlimited Vol. 1 (main story)
Street Fighter Unlimited Vol. 2[10] (main story)
Street Fighter Legends: Cammy (side story)
Street Fighter VS Darkstalkers (main story)
Street Fighter: Shadaloo Special (side story)
Ultra Street Fighter II (main story)
References
[
]
External links
[
]