Street Fighter EX is a spin-off series of Street Fighter, consisting of 2.5D fighting games developed by Arika and published by Capcom (who allowed the main series characters for licensed use). The spin-off series generally stars a cast that contains half of the popular Street Fighter characters and half of new original fighters created and owned by Arika, keeping this ratio throughout the various sequels. The first installment, released in November 1996, was the first game in the Street Fighter series to feature 3D graphics.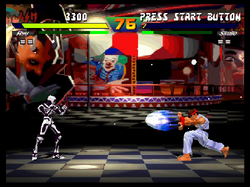 Gameplay
[
]
The EX games plays like a 2D fighting game, but the linear plane in which characters fight often changes along a 3D battleground. The games uses special moves and super combos familiar or similar to previous Street Fighter games in the series.
Development
[
]
During the 1990's, 3D fighting games like Sega's Virtua Fighter and Namco's Tekken were starting to steal some of the popularity that traditional 2D fighters were enjoying because of their eye-popping visuals, so Arika decided to try bringing the popular cast of Street Fighter into a 3D world.
The result was met with mixed reviews,
[citation needed] but one decision helped the series succeed more than any other: the gameplay mechanics remained two-dimensional. While many 3D fighters allowed players to side step in and out of the background, and jumping took on a whole different meaning, Arika decided to leave the two-dimensional gameplay mechanics of the Street Fighter II series and the Street Fighter Alpha series alone, and only made the game visually three-dimensional. This meant that fans of the series could play the game instantly instead of having to learn a whole new system.
Games
[
]
Characters
[
]
| Symbol | Meaning |
| --- | --- |
| | Playable |
| | Hidden playable |
| | Only computer-controlled |
| | Cheat device playable |
| | Absent/unavailable |
Original Arika characters
[
]
Street Fighter characters
[
]
Legacy
[
]
Fighting Layer

[

]
Arika released a spin-off of Street Fighter EX in arcades, called Fighting Layer. The gameplay was very similar to the EX games, and even featured two of the EX characters (Allen Snider and Blair Dame), but was not an actual Street Fighter game, and was distributed by Namco.
Fighting EX Layer

[

]
Fighting Sample, a demo fighting game with Kairi, Blair, Hokuto, Shadowgeist and D. Dark for the Nintendo 3DS in their official site.[1] On July 11th the same year, a footage featuring the demo appeared on YouTube.[2] The video showed a battle between Hokuto and Kairi as well as featuring reused sound effects. one of Arika's ideas to Capcom for a new installment in the EX series.[3]
On June 30th, 2011, Arika uploaded several screenshots for
On April 1st, 2017, a video on YouTube [4] appeared showing Kairi, Garuda and Hokuto fighting in a 3D system. Arika passed it off as an April Fool.[5] Later it annouced that this project, named Fighting EX Layer, really was in development. The game was released in June 2018 for the PlayStation 4. The game is not only the spiritual successor to the Street Fighter EX games and Fighting Layer but also the "evolution" of Fighting Sample.
Trivia
[
]
The storyline of the EX series takes place in an alternate timeline and is not canon to the official storyline of the main series.
About Capcom characters appearing in this spin-off series.

There are all characters appeared in the original Street Fighter II: The World Warrior (Ryu, Ken, Chun-Li, Guile and Zangief appearing in Street Fighter EX and subsequents; Dhalsim appearing in Street Fighter EX Plus Alpha and subsequents; Blanka appearing in Street Fighter EX2 and subsequents) except E. Honda. Coincidentally, in the 3D fighting game series Virtua Fighter, the third game introduced Taka-Arashi, a sumo wrestler, who was the only one character in that series not making further appearances until Virtua Fighter 5 R. This fact gives the impression that at that time handling their fighting style in 3D was difficult.
There are the boss characters become playable in Street Fighter II': Champion Edition (M. Bison appearing in Street Fighter EX as a boss, later becoming playable in Street Fighter EX Plus and subsequents; Vega appearing in Street Fighter EX2 and subsequents; Sagat appearing in Street Fighter EX2 Plus and subsequent) except Balrog. His absence is probably due to the difficulties at that time in handling in 3D his fighting style which deprives him of the use of legs. It should be noted that Cracker Jack, one of the new characters introduced in this series, has a very similar fighting style and uses many of the same moves, though unlike Balrog, Jack does use kicks.
There is no character introduced in Super Street Fighter II: The New Challengers, only Akuma (appearing only in the original Street Fighter EX and its updates) who was introduced in Super Street Fighter II Turbo.
Evil Ryu (appearing only in Street Fighter EX Plus, EX Plus Alpha and EX3.) and Sakura (appearing only in Street Fighter EX Plus Alpha and EX3) are the only two characters who has been introduced in the Alpha series.
Akuma, Evil Ryu and Sakura (only characters not coming from Street Fighter II: The World Warrior-Street Fighter II': Champion Edition) don't appear in Street Fighter EX2 and EX2 Plus and only Evil Ryu and Sakura return in EX3.
During the development of Street Fighter V there was speculation about the Street Fighter EX fighters' possible inclusion but according to Arika's vice president Ichiro Mihara, there are no plans to include the fighters in Street Fighter V.[6] Instead, since September 2016 and onwards, all of the EX fighters created were given profiles in the Shadaloo Combat Research Institute character guide.
Originally Street Fighter EX was going to be titled Street Fighter Gaiden but later was changed.[citation needed] When asked about the change and the meaning of the "EX", Akira Nishitani stated is short hand for "exquisite", meaning it's not a traditional Street Fighter. Since many believed it was short for "experts", he said it's also correct because the mechanics are a little bit complex so that word also fits the game.[citation needed]
Gallery
[
]
References
[
]
External Links
[
]